Eat A Sub, Support Easterseals Central Illinois! Jersey Mike's Celebrates 13th Annual "Month of Giving"
We were LIVE at Jersey Mikes at East Peoria Levee District on Tuesday 3/28 from 11-1 & Wednesday 3/29 from 11-1
Since people were able to donate all month, We will have the final numbers next week but for the Day of Giving this is a record since I have been with Jersey Mike's.
In 2021, we raised $8,486.80 (selling 475 loafs of bread) for Easterseals. In 2022, we did a national donation campaign with the Special Olympics, which raise $9,170.10 (selling 481 loafs of bread) on the day of giving. So we did almost $2,000 more than we did last year and $2,500 more than 2021. We sold 132 more loafs of bread in 2023 than we did back in 2021.
This was our highest grossing store for the Day of Giving within the Jersey Mikes organization.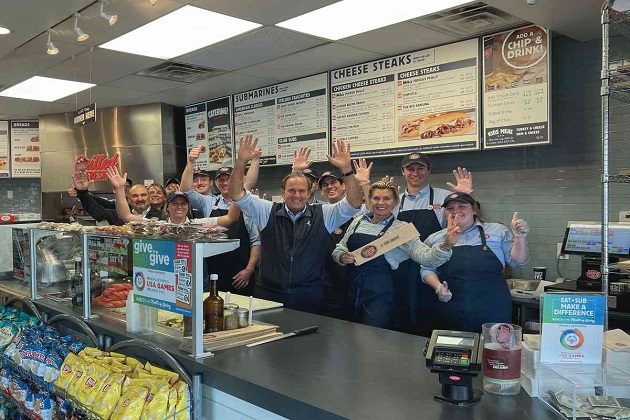 East Peoria, IL (March 20th, 2023) – Easterseals Central Illinois is joining forces with Jersey Mike's Subs in East Peoria for the 13th Annual March "Month of Giving" campaign to support local charities. During the month of March, customers can make a donation to support the work of Easterseals Central Illinois at the restaurant located in the East Peoria Levee District. Since the beginning of this partnership, Jersey Mike's in East Peoria has donated over $40,000 to Easterseals Central Illinois.

The Month of Giving campaign will culminate with Jersey Mike's "Day of Giving" on Wednesday, March 29, when local Jersey Mike's restaurants will give 100 percent of the day's sales – not just profit – to Easterseals Central Illinois. "We are so honored and excited to be partnering with Easterseals of Central Illinois for our Day of Giving on March 29, 2023. Easterseals has been a beacon of light for the last 100 years in their mission to help children with special needs, disabilities and autism reach their full potential," said Scott Miller, Owner/Operator of SamCo Management Inc, which operates the East Peoria Jersey Mike's restaurant. "Easterseals has such a positive impact for so many families in Central Illinois and we could not be more excited to raise money for such an amazing local cause."
On Day of Giving, local Jersey Mike's owners and operators throughout the country will donate their resources and every single dollar that comes in the door to more than 200 different charities including hospitals, youth organizations, food banks and more.

This March, Jersey Mike's hopes to exceed last year's record-breaking national fundraising total of $20 million and help local charities striving to fulfill their missions and make a difference.
"I would like to extend a personal invitation to you and your family to visit Jersey Mike's Subs throughout the month of March, and especially on Day of Giving when 100 percent of sales – every penny – goes to help a great local cause," said Peter Cancro, Jersey Mike's founder and CEO, who started the company when he was only 17-years-old. Throughout March, customers can make donations through the Jersey Mike's mobile app or onsite. On Day of Giving, Jersey Mike's restaurants will donate their resources and every single dollar that comes in — whether instore, on-line or through the app. Since Month of Giving began in 2011, Jersey Mike's has raised more than $67 million for local charities.

About Jersey Mike's Jersey Mike's Subs, with nearly 2,500 locations nationwide, serves authentic fresh sliced/fresh grilled subs on instore freshly baked bread — the same recipe it started with in 1956. Passion for giving in Jersey Mike's local communities is reflected in its mission statement "Giving…making a difference in someone's life." For more information, please visit jerseymikes.com or follow us on Facebook (facebook.com/jerseymikes), Instagram (instagram.com/jerseymikes), and Twitter (twitter.com/jerseymikes.com).