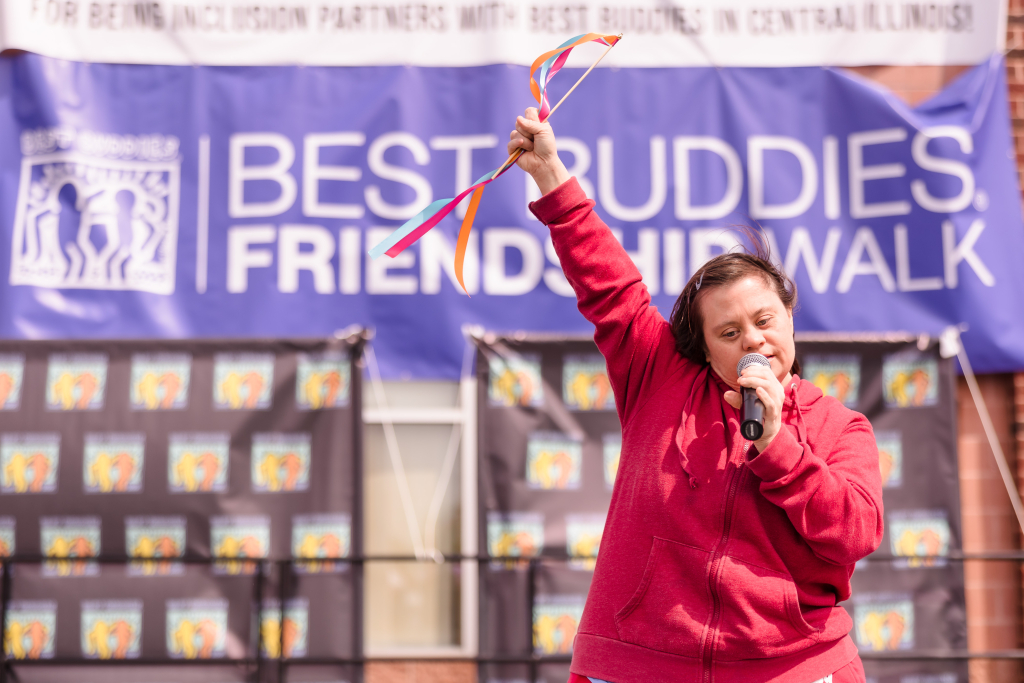 It's time for the 2023 Best Buddies Friendship Walk in Central Illinois! What is the Best Buddies Friendship Walk? It's the biggest celebration of inclusion for people with and without intellectual and developmental disabilities (IDD) every year to support Friendships, Jobs, and Leadership Development for the IDD community.
April 29th, join Best Buddies in Central Illinois at the Corn Crib on Raab Road in Normal Illinois for this FREE and inclusive event!
Walk for inclusion, sing karaoke on the DJ4U stage, play videogames with the Laser Ops inclusive videogame tent, enjoy Nothing Bundt Cakes and McDonald's Coffee, PLUS so many fun activities for everyone to participate in.
Start your Best Buddies Friendship Walk team, tell your friends and family to join you, then tell everyone why inclusion is so important to you and your community! If you are able to raise $50, you will get the 2023 Friendship Walk shirt at the event on April 29th.
Click here to start your Friendship Walk team now!!!
Other events to help raise money for the Friendship Walk include Wine-Down Wednesday at Stave, Uptown Normal, on March 15th AND Finger-lickin' Fundraising on March 18th at Country Club BBQ in Peoria.
Funds raised for the Best Buddies Friendship Walk will support new Friendship Chapters in schools across Central Illinois AND existing chapters like ISU, Bradley, East Peoria, Normal Community, Augustana, Champaign, and more. PLUS, your donations and funds raised will support employment opportunities and leadership development for people with IDD.

ABOUT BEST BUDDIES INTERNATIONAL:
Best Buddies® is a nonprofit 501(c)(3) organization dedicated to establishing a global volunteer movement that creates opportunities for one-to-one friendships, integrated employment, leadership development and inclusive living for people with intellectual and developmental disabilities. Founded in 1989 by Anthony K. Shriver, Best Buddies is a vibrant organization that has grown from one original chapter to nearly 3,000 elementary school, middle school, high school, and college Friendship and Promoter chapters worldwide. Today, Best Buddies' nine formal programs — Middle Schools, High Schools, Colleges, Citizens, e-Buddies®, Jobs, Ambassadors, Promoters and Inclusive Living— engage participants in each of the 50 states and in 56 countries and territories, positively impacting the lives of over 1.3 million people with and without disabilities around the world. In many cases, as a result of their involvement with Best Buddies, people with intellectual and developmental disabilities secure rewarding jobs, live independently, become inspirational leaders and build lifelong friendships. For more information, please visit www.bestbuddies.org or connect with us via Facebook, Instagram or Twitter.