Hit us up during the show here!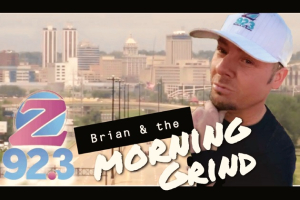 FB Official Red Hot Brian Scott & The Morning Grind!
FB Friends RedHot Brian Scott
Snapchat, IG, TikTok @RedHotBrianScott
Don't Eat The Fresh Popcorn!
Not A HS Student
A 29-year-old woman was arrested last week after she spent four days fraudulently enrolled in a New Jersey high school as a student, school district officials said. 
The woman, whom New Brunswick police identified as Hyejeong Shin, of New Brunswick, was charged with one count of providing a false government document with the intent to verify one's identity or age.
Police said she showed a false birth certificate "with the intent to enroll as a juvenile high-school student
he businesswoman and media personality, 41, and husband Carter Reum recently welcomed their first baby together, a son, via surrogate, PEOPLE can confirm.
"It's always been my dream to be a mother and I'm so happy that Carter and I found each other," the new mom tells PEOPLE exclusively. "We are so excited to start our family together and our hearts are exploding with love for our baby boy."
Niceholes & Driving Pet Peeves
Everyone has their biggest driving PET PEEVES, and several have mentioned "NICEHOLES" . . . people who think they're being "nice," but it's actually dangerous.
For example, one person said, "'Nice' people who stop in the middle of a roundabout to let cars enter." Or, "Randomly stopping on a road to let someone in oncoming traffic turn left in front of them." Or, "Waving people through a four-way stop when it's your turn to go."
Not following the rules of the road is dangerous to other drivers, as well as bicyclists and pedestrians, because they don't know what's going on. One person put it this way: "Don't be polite . . . be predictable."
Here are 15 other driving pet peeves people have mentioned:
1. People holding everyone up by trying to make a left turn at a time where it's borderline impossible. Or when there's a sign SAYING right turn only.
2. People who jump out from a side street or parking lot . . . cutting you off . . . and then drive slower than you were.
3. People pulling out right in front of you when there's a large gap of no traffic right behind you.
4. People in the left lane at an intersection that inch up when you in the right lane do . . . apparently not realizing that you're trying to see around them to make a legal right turn.
5. Not accelerating up the on-ramp.
6. People driving the same speed side-by-side on the highway, and creating a slow road block no one can pass. This includes trucks.
7. People driving with their high beams on in traffic.
8. People NOT driving with their lights on in rain and other weather.
9. Anyone who tosses trash out the window, including cigarette butts.
10. People who don't share the road . . . like having space to move forward so people can access a turning lane but not doing so.
11. People going the wrong way down a one-way parking lot lane, just so they can get the closest parking spot.
12. People on their phones . . . on the road or at intersections.
13. Tailgating.
14. People who refuse to let another driver in during an obvious zipper merge.
15. People who don't signal a turn . . . or who leave their turn signal on.
Bad Moods Rule
If you're going in for a medical procedure, and the doctor seems like they got up on the wrong side of the bed . . . you're in GOOD HANDS.
A new study has found that bad moods can make people more "detail-oriented," and it's not just because they're less chatty and distracted by others.
The researchers say mood and language are supported by different brain networks. But there's a lot of interaction going on between them.
When the people in the study were in a negative mood, they were more "careful and analytical." They scrutinized what was actually in front of them . . . and didn't just fall back on general knowledge or routine.
They were also more likely to "re-analyze" situations where there were unexpected inconsistencies when they were in a bad mood. Or at least WOMEN are. For the purposes of the study, they only used female participants this time, but future studies will also involve men.
I Scream, We Scream!
Is this fun, or just wasteful? An ice cream place called Catch'N Ice Cream recently opened in New York. And their gimmick is they THROW you your order. (???)
It comes as one big scoop they hurl across the room, and you're supposed to catch it in a bowl. It opened last summer, but two videos are trending right now . . . one of people catching ice cream, and one of people dropping it.
If you drop your order, they give you a new scoop. So it's just for fun. A TikToker named Dylan Lemay opened it after he got a following online while working at Cold Stone Creamery.
(Here's people catching, and people dropping.)
She knows Why Men Get Married
A woman on TikTok has been racking up the hits with a theory on WHY men choose the woman they want to marry. Here's how it goes. Quote, "Men marry the woman in front of them, at the time they're ready to get married."
If that's true, then it's all about the timing, and NOT about finding their "soul mate" or "the love of their life." She heard it from a photographer who does weddings, if that matters.
(Here's the video.)
Job Opening at OG
Some people do take advantage of sick days. But did this manager go a little too far here?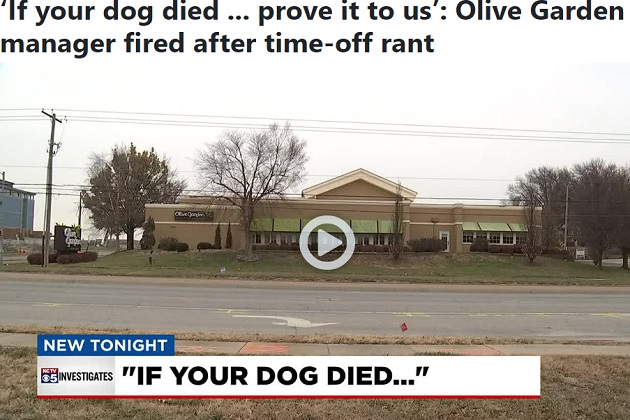 That 90's Show
We found the new trailer for That 90's Show, and it doesnt look awful!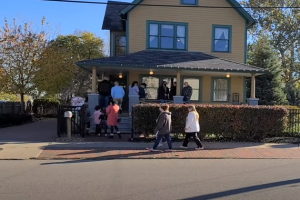 Own The Christmas Story House!
The house from "A Christmas Story" went up for sale yesterday morning in Cleveland. The price isn't disclosed, but the entire property covers 1.3 acres.
It includes a museum with props and costumes from the movie, a gift shop, parking lots, and empty lots to expand.
The current owner says, quote, "Looking for the right buyer. It's an interesting property to not only own, but you also have to take care of as a piece of Americana. It's going to be an interesting journey."
(You can watch the owner's interview here.)
.
Now Hiring Non Stupid people!
Aren't we all sick of hiring stupid people by now, this guy spoke for all of us! But some (probaly stupid people) are upset because a Texas pet boarding business put out a sign that said "now hiring non-stupid people". Here is the owner of Pets Gone Wild Resort, Walter Parsons, talking about why he decided to put the sign out.
plus from last weeks show!