Hit us up during the show here!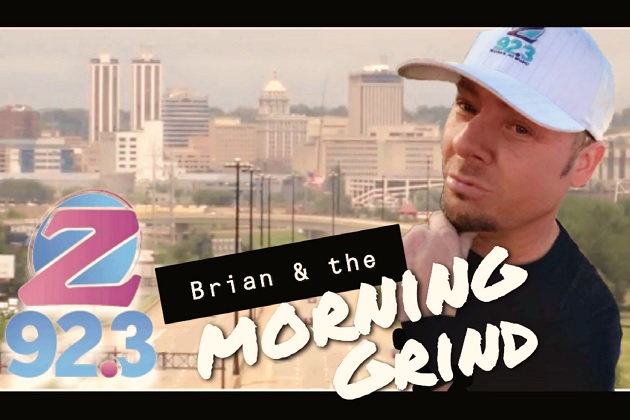 FB Official Red Hot Brian Scott & The Morning Grind!
FB Friends RedHot Brian Scott
Snapchat, IG, TikTok @RedHotBrianScott
First Day Of School Honesty
A kid, who went viral for telling his mom she made a "terrible sandwich" as he got off the bus on his first day of kindergarten, is now fighting childhood hunger.  Abe Ndege, who is now 10 years old, has launched terriblesandwich.com to help raise awareness for childhood hunger.  Here's the clip from four years ago that went viral. 
Are you Halloready!
Have you figured out costumes yet? If you wait too long, you have to settle for whatever's left after all the stores are picked over. But it's still early enough to shop online.
Here are a few of the best sites for Halloween costumes . . .
1. Amazon. If you DO wait too long, it's your best last-minute option.
2. Cossky.com. It's a good place for video game-related costumes.
3. Costumes.com. They've got a lot of trendy costume ideas.
4. Etsy. It's good for handmade, one-of-a-kind stuff. But don't wait much longer.
5. HalloweenCostumes.com. It's a good place for kids' costumes.
6. SpiritHalloween.com. They've got stores everywhere, but also a website.
7. Target and Walmart. They're always a good budget option, especially for kids.
8.  Yandy.com.  It's the go-to spot for SEXY costumes.  A few on their current "most popular" list include sexy firegirl . . . sexy Sherlock Holmes . . . sexy "Top Gun" characters . . . and sexy gummy bear.  (???)
But How Bad Was Your First Date?
A New York City man was arrested after being caught on camera smashing the inside of a McDonald's with an axe after his romantic advances were rejected by a woman. This is the moment that Michael Palacios started smashing tables and windows, and physically assaulting the group of people the woman was with.
Instagram Model Is Claiming She Had An Affair With Adam Levine. And Now He Wants To Name His Baby After Her
Back in 2014, Maroon 5 singer Adam Levine and Victoria's Secret model Behati Prinsloo got married. Earlier this month, it was reported the two are expecting a third child together. Now, if new claims from another model are to be believed, this is where things get strange: In a new TikTok video shared today (September 19), Sumner Stroh, a model with a sizable social media following, claims she and Levine had a year-long affair and now he wants to name his forthcoming baby after her.
Single Dad Making All The Right Promises
Here's the single dad is going viral for his TikTok video where he tries to find a date to take his daughter and her friend to an amusement park. Here is Chris Cozad pleading his case.
New Words For Us
Merriam-Webster just added 370 new words and phrases to its dictionary, including one we've heard a lot the past month. Here are a few worth mentioning?
Stay Off The Beach
Delaware Natural Resources Police State Park officers arrested 48-year-old Donald R. Quill Jr. of Newark, Del. on a charge of driving under the influence (DUI) and additional traffic violations Thursday evening after he drove his vehicle into the ocean on Cape Henlopen.
At approximately 7:20 p.m., on Sept. 8, officers responded to Cape Henlopen State Park's Navy Beach following a report of a water rescue in progress. Witnesses called 911 after seeing a vehicle driven into the surf. Bystanders quickly entered the water and helped the driver from the vehicle and onto shore.
Relationship Pro Tip; Men Are Happier Being Funnier
Try this, guys: Tell your wife a bad joke, and see if she laughs anyway. And if she does, thank her for it . . .because it's part of the delicate fabric that's been holding your relationship together.
A new study found men tend to be happier in relationships if they think they're the FUNNY ONE.
Researchers talked to 150 couples who'd been together an average of seven years, and asked how happy they were.
They also asked about the role that humor plays in their relationship . . . things like how often they joke around, and how funny they think the other person is.
And in general, men are happier if they at least THINK their partner sees them as the funnier of the two.
The study also found humor is important in general, and the average guy actually laughs at his wife's jokes just as much as she laughs at his.
But secretly, men think they're slightly funnier, and they hope their wife agrees.
Crazy Or Clever
We'll let her explain this one!
Beyonce On Love And Serena Williams
Beyoncé narrated a Gatorade ad to honor Serena Williams. Also, Serena had a custom outfit made for the U.S. Open that includes diamond-encrusted Nikes. Oh, and she won her first match last night.
Where Are They Now? Hid Yo Kids, Hide Yo Wife Guy
n case you're unfamiliar, Dodson became an online sensation back in 2010. In his interview with WAFF, he shared how at the time there was an intruder roaming around his neighborhood in Huntsville, who attempted to assault his sister. His frustration on television went on to rack in millions of views on YouTube. The video was so popular that it even became a song, "The Bed Intruder Song."
Now, 12 years later, Dodson is releasing "Run N' Tell That," his own beer, which is inspired by his meme, according to We Got This Covered. The new venture is in collaboration with Straight To Ale — a brewery based in his hometown of Huntsville, AL.
Giant Backbreaker Slide Of Fun
Finally, something new we can do utilzing your panty hose & a candle, thanks to Tik Tok
U-Haul Truck Dating Is The New Craze
The newest dating trend is to rent a U-HAUL together and hang out in the back of it. (???)
People are doing it and posting videos on TikTok. They usually get dinner, eat in the back, and put an inflatable mattress in there to hang out on . . . and maybe do OTHER things on. (If this moving truck's a-rockin' . . .)
People like it because it's weird and unique. And it's also cheap if you don't drive too far. U-Haul's base rate is $19.95 a day, plus mileage and gas. So if you don't have your own car, it's cheaper than renting one.
Most people opt for a big box truck. But a couple in New York just went viral after renting a U-Haul pick-up for their one-year anniversary. They bought a bunch of snacks and took it to a drive-in movie. (Here's the video.)
Some guy in Fresno, California may have started the trend when he took his girlfriend on a pandemic date way back in August of 2020.
He rented a U-Haul for their first anniversary . . . put a mattress in it . . . decorated it with candles . . . opened the back door . . . and they had dinner next to a lake.
Do You Silently Judge?
There's a thread online where people are talking about the things they "silently judge" other people for. Here are the highlights:
1. Littering. Or putting their dog's waste in a bag, and then leaving THAT somewhere. Which makes you wonder why they even bagged it to begin with.
2. When people leave an empty cup or other trash on a shelf in a store . . . or when people leave their trash on the table at fast food places.
3. When people poke fun of other people's appearance or clothes.
4. Leaving the bathroom without washing their hands.
5. Parents who swear at their kids in public.
6. Being nasty to service workers.
7. One person said, "When people hype themselves up too much. Saying things like, 'That wouldn't fly with me,' or 'everyone knows not to mess with me,' or, 'I'll have your back until you cross me.' Like, bro, this isn't a movie, relax."
8. And another said, "People who are just super judge-y . . . they always have something negative to say about someone."
Need Drugs? Don't call Jack
An 18-year-old in Florida named Jack Fisher was arrested on Monday, after he sent a "random text message" to a County Commissioner offering to sell him an "eight-ball" of cocaine.
The County Commissioner went to the police, and they traced the number to Fisher. The authorities arranged a meet-up "at the shore of a pond near Bird of Paradise Drive in Palm Coast." (Which sounds romantic.)
Fisher arrived, and was busted by police. He was carrying a bag with 3.2 grams of fentanyl . . . enough to potentially kill 1,585 people. He was charged with felony possession of fentanyl with intent to distribute, and unlawful use of a two-way communications device.
It's unclear what the story is behind the "random text," but he didn't just text a County Commissioner, the guy is also 11 years sober. (News 4 Jax / Fox News)
An Ohio woman was arrested after a 6-year-old boy in her care was caught drinking a Smirnoff Ice inside of a gas station. Victoria Hampton was arrested and charged with child endangering and contributing to the delinquency of a child. Here is the gas station employee, Olivia Eversole, that called the police
Dustin Diamond's abandoned Wisconsin home has finally sold, two years after his death. Pictures and video that hit the web yesterday are kind of sad, we met him 3 years, was a super cool guy.
Worst get Out Of Work Excuse..Everrr
18 year old Jayne found out threats to get out of work are not the best route. There was no threat of a mass shooter at Lollapalooza, but Jayne did get some much desired time off!
Gym E'ry Day
Someone near Indianapolis turned an old high school gymnasium into a house, and now it's up for sale. They listed it for $299,000
Are You Quiet Quitting Your Job?
a few people who went their entire careers like this. Have you heard of the work term "quiet quitting" yet? This TikTok video sums it up. It's not when you actually quit your job. It just means you stop caring so much and refuse to go the extra mile. So work is NOT your top priority. Basically, you choose to only perform your specific job duties. So instead of giving 110%, you back it off to whatever you can get away with and not get fired. The goal is to make sure there's room for other stuff in your life, so you're not a workaholic. But obviously there's a fine line between having a good work-life balance and just being lazy.
Congrats To Stephanie Tanner's Full House star Jodie Sweetin weds Mescal Wasilewski
'Full House' star Jodie Sweetin weds Mescal Wasilewski
Will Smith's Five-Minute Apology Video
We found Will Smith's apology video on Friday, he said that everyone wants to play a victim, and, "Anyone who says words hurt has never been punched in the face."
$100k a Year to Taste-Test Candy, and Kids Can Apply
A candy company called Candy Funhouse is hiring a head taste-tester who can earn $100,000 a year working remotely. And even KIDS can apply for the job. You have to apply on LinkedIn before the end of August.
Chefs Share the Red Flags That Show a Restaurant Is Low Quality
There's a forum online where restaurant chefs are sharing the "red flags" you should look for that reveal a place is "low quality." Most of them are things you could notice BEFORE you order. Here are a few
Fake Violinist Is The New Summer Scam
Police in various cities are suggesting people be wary of giving money to parking lot violinists. Why? Because they are not neighbors in need, they are pretending to play the violin to solicit donations. It's now a nationwide scam. Here is a clip of a woman confronting one of the people pretending to play the violin on the street.
The Family That Slays Together, Stays Together
Police were called to the home at around 11:00 P.M. They say the fight started between two adult siblings . . . the brother came home drunk with a handgun and he got into a heated argument with his sister. Things got physical, but he lost the gun during the struggle. The mother and father jumped into it to "break things up" . . . but it escalated, and at one point, ALL OF THEM had a knife, and ALL of them had been stabbed. Fortunately, everyone will survive. The brother, 25-year-old Manuel Gutierrez, was arrested on three charges of aggravated assault. It's unclear whether any of the other family members will be charged.
Unspoken Rules Of Neighborhood Etiquette
Someone created a list of "unspoken rules" of neighborhood etiquette include: Avoid stealing your neighbor's packages, be mindful of how loud your dogs and vehicles are, and give people a heads-up if you're having a party, here's the rest!
Hide Yo Jewels!
A New York City pastor was robbed at gunpoint in the middle of a live-streamed church service by masked gunmen. Here is the moment that the armed robbers stole $400,000 worth of jewelry and Bishop Lamor Whitehead speaking out about the incident after the fact.
Sayings That Are NOT Always True
You know those sayings you've heard a MILLION times . . . and you wonder why people keep saying them because they aren't true?
There's a thread online where people are talking about popular sayings that are actually B.S. . . . and there are some good ones. The highlights include:
"Money doesn't buy happiness."
"Time heals all wounds."
"Cheaters never win."
"What goes around, comes around."
"Good things come to those who wait."
"Whatever doesn't kill you makes you stronger."
"Out of sight, out of mind."
"The early bird gets the worm."
"An apple a day keeps the doctor away."
"There are plenty of fish in the sea."
"Sticks and stones may break my bones, but words will never hurt me."
"Better safe than sorry."
She Wants Her $10,000 In Damages For Not Getting A Second Date!
Michigan woman is suing a man for $10,000 for standing her up on a date. She's suing Richard Jordan for "intentional infliction of emotional distress" on the grounds that Jordan deliberately hurt her by standing her up. Here is QaShontae Short getting into a shouting match with a judge as they try to workout which type of court should be looking at this case.
Mental Ageshttps://www.facebook.com/watch/?v=3151502628449440
Here's the Mental Age quiz we talked about this morning, nothing to do with your IQ, just where you bascially are mentally.. pretty accurate for a lot of people. What about you?? Here it is!
2022 Emoji Updates Are Here!
Sunday is World Emoji Day, and it looks like dozens of NEW emojis might be on the way soon . . .
The site Emojipedia says 31 new emojis could be approved in September and hit phones next year. That's actually NOT a lot. 121 were added in the last update, and 217 the time before that. Here are a few highlights from the new list .
Yellowstone Actress & the missing money??
Doja Vs Stranger Things
As a rule of thumb, don't share anyone's conversation on Social Media, especially Doja cat!
Rude Celebs!
Actual recordings of actual celebs beings actually rude!
Summer Hair Care Up There
https://twitter.com/StevenCheah/status/1541091493749719040/photo/1
Pickle juice For The Win
What's your go-to drink on a hot day? Water? Maybe lemonade? Here's another option: A health and wellness expert posted a list of reasons to drink PICKLE JUICE. Here are the six benefits she came up with . . .
1. It's good after a workout. Like Gatorade, it's full of electrolytes, including potassium and magnesium. Another one of those is salt though, so be careful. One cup of pickle juice has about a third of the sodium we're supposed to have in a whole day.
2. It might help regulate your blood sugar. There's evidence that drinking a small amount of pickle juice every day can keep insulin levels in check.
3. Some people claim it's a hangover cure. If it doesn't make you PUKE, the electrolytes might help you re-hydrate.
4. Some types are loaded with probiotics, or healthy bacteria for your gut. It has to be a fancy brand though, because most pickle juice is pasteurized, which kills bacteria.
5. It might help with muscle cramps. A study a while back looked into it. People's cramps went away faster when they drank a third-of-a-cup of pickle juice. They think it might have to do with all the vinegar in it.
6. It could help you lose weight. In a 2009 study, people lost more weight when they drank a little bit every day. Again, it might be the vinegar.
https://www.instagram.com/p/Ce1PO4frsWQ/?utm_source=ig_embed&ig_rid=2ad9b014-54d2-4fb6-aa29-55c2a4632cc8
Sleep Better With Two
A new study at the University of Arizona found adults tend to sleep better together than they do apart. Benefits include less insomnia, more minutes spent sleeping, and we also fall asleep faster.
People who sleep in the same bed with a significant other also have less stress, anxiety, and depression. But that doesn't hold true for letting your KIDS sleep with you. People who let their kids in their bed sleep worse, and have more stress overall.
Stupid One-Liner: A new study says adults sleep better together than they do alone. So that's why every person in our IT department has big bags under their eyes.
Tips For Online Dating From A Cop that Sounds Like Batman
Tampax Says Amy Schumer Sucks…Almost All the Tampax Availablity!
Tampax told "Time" magazine that AMY SCHUMER was the reason for the tampon shortage, because sales "exploded" after they did an ad campaign with her. It's hard to believe they're serious, and obviously, the real reasons have to do with the pandemic and supply chain issues.
Tampax launched a new ad campaign with Amy in July of 2000, and they say that ever since then, quote, "retail sales growth has exploded." It's not likely that they're even the least bit serious. Especially since the shortage affects all other brands, not just Tampax.
The real answer is complicated, but it basically boils down to the pandemic and supply chain issues . . . like practically everything else that SUCKS right now.
And Amy is definitely not on my list of comedians that suck, so we doubt Tampax was even serious. But here's the commercial in question!
Rocks New Movie!
Cool New Bio Pic About Mike Tyson
The Afterburn of Stranger Things' Eleven
Early 2000s fashion is officially COOL again.
The trend actually started last summer. But now influencers are latching on, so hashtags like "Y2KStyle" and "Y2KFashion" are trending. A few examples include bright colors . . . wild t-shirts . . . low-rise jeans . . . Ed Hardy stuff . . . tiny purses . . . and velour tracksuits with "Juicy" on the back.
One reason it's supposedly happening now is young people feel like the pandemic robbed them of their childhood. And clothes back then were all about being fun and youthful. But trends also just come back around like this constantly.
If you really want to feel old, here ya go: Stuff from the Y2K era is now being sold as "vintage" clothing. And a lot of recent shows and movies set in the early 2000s are being called "period pieces."
How To Ruin A Disney Wedding..
If We Knew How To Be Back Then
Is there something that USED to stress you out that . . . if it happened now . . . wouldn't bother you at all?
There's a thread online where people are sharing "personality traits" that they developed later in life that they wish they'd had sooner. Here are the highlights:
1. The ability to not take things personally . . . and be willing to be indifferent.
2. Firmness. Firm in boundaries . . . and asking for needs and wants.
3. The ability to tell yourself to shut up when you start overthinking.
4. Decisiveness. The ability to just make a decision and stick with it.
5. The ability to take criticism and feedback . . . in the spirit in which it was given.
6. Choosing to ignore dumb people instead of arguing with them.
7. Believing in your OWN assessment of people, and not that made by others.
8. Giving people the benefit of the doubt. No one is trying to make your life harder. They're just trying to do things for themselves . . . so don't take things to heart, and be kind to others.
The Wedding List Over Dones
There's a list going viral of things that people think should be RETIRED from weddings. And not surprisingly, it's pretty controversial.
1. "Clinking silverware on glasses to get the couple to kiss."
2. "The tired, boring Best Man and Maid of Honor speeches."
3. "The first dance. It's lame . . . no one but the couple is entertained by it."
4. "Playing Beyoncé's 'Single Ladies' when it's time for the bouquet toss."
5. "The 'Chicken Dance'."
6. "People proposing at other people's wedding ceremonies or receptions."
7. "Over-drinking, which can lead to unwelcome drama and distractions."
8. "Choreographed skits, flash mobs, and dance routines."
9. "Serving food that's on a buffet that isn't labeled." Due to allergies.
10. "Bringing kids when the invite requests NO children."
11. "Taking your own pics, while the photographer is doing the staged shots."
12. "The couple smearing cake in each other's faces."
Googly Wedding Eyes
Finally a photographer did what we all want to do to wedding pics, and added googly eyes to them all!
Secret Guy Code Published!
There's a new thread online, where men are talking about the "unwritten rules" that they have. So if you've ever wanted to crack the secret code of manhood, this is an exciting opportunity. Here are some highlights:
1. "Nod down when you greet someone. Nod UP when it's someone you know."
2. "If a friend buys you a drink, you don't pay it back. You buy the next round."
3. "Beer, pizza, and BBQ is acceptable payment for helping another man."
4. "Don't use the urinal next to an occupied one."
5. "Don't roast a man in front of their kid."
6. "Don't start drama. If drama begins, take steps to de-escalate."
7. "If he's flirting with her, him, or they . . . don't interrupt."
8. "When your friend's crush is around, he is the funniest in the group."
Skip The Dating Drama Around your Friends
This is about couples, but it might land even harder if you're single: A relationship expert came up with a list of things couples shouldn't do in front of their friends, because each one is toxic . . . or just annoying.
1. Don't put each other down. Jokes and sarcasm might be okay, but there's a fine line. Avoid doing anything that might humiliate them in public, or in front of friends. They could end up resenting you for it, even if they act like it's cool.
2. Constantly bragging about your relationship. That one applies even if only one of you is there. If it comes up naturally, fine. But people will get sick of you bringing it up on your own, especially your single friends.
3. Too much PDA, or "public displays of affection." Again, it gets old fast and feels awkward. Especially if you're out with a "third wheel" who's on their own.
4. Public displays of anger. Don't be the couple who gets into full-blown fights with your friends there. And definitely don't make them the referee by asking them to back you up on it.
5. Inappropriate flirting. Be careful about flirting with other people while you're out together, especially their friends. It can happen by accident without even realizing.
6. Marking your territory. That one sometimes happens right AFTER inappropriate flirting, but not always. Interrupting conversations, being dismissive, and being overly affectionate can all be forms of marking your territory.
Red Flag/ Green Flag
Have you ever started a new relationship and been so swept off your feet that you missed some RED FLAGS? Buzzfeed polled their readers on several dating behaviors, and asked whether they are red flags or green flags. Here are the results:
1. Giving small gifts, early on in the dating process. 85% said that's cool, or a "green flag." 15% disagreed and said it was a RED flag.
2. Texting you all day. 47% said that's a green flag. 53% said it's a red flag.
3. Asking you to hang out more than twice a week. 82% said that's a green flag, 18% said it's a red flag.
4. Calling you "mine." 36% said that's a green flag. 64% said it's a red flag.
5. Introducing you to their friends and family within the first six months of dating. 90% said that's a green flag. 10% said it's a red flag. (In the age of online dating, it might be sketchy if you DON'T meet any friends or family.)
6. Consistently seeing a therapist. 70% said that's a green flag. 30% said it's a red flag.
7. Talking about making long-term plans with you . . . early on. 36% said that's a green flag. 64% said it's a red flag.
8. Wanting to "share locations" on social media. 18% said that's a green flag. 82% said it's a red flag.
9. Making a point to plan all your dates. 40% said that's a green flag. 60% said it's a red flag.
10. Calling you multiple times a day. 21% said that's a green flag. 79% said it's a red flag.
11. Not being great at texting, but being great in person. 76% said that's a green flag. 24% said it's a red flag.
12. Not texting "Good Morning" right when you wake up. 71% said that's a green flag. 29% said it's a red flag.
Like A Good Neighbor
In a new poll, 92% of people believe they're a great person to live next to. Which implies that 8% of people KNOW they're THAT neighbor. And if you're looking to improve your neighborly interactions, the poll also produced a rundown of the Top Signs of a Good Neighbor. Here are some highlights:
1. Accepts packages or deliveries when you're away.
2. Keeps an eye on your home when you're on vacation.
3. Warns you before they have a party.
4. Checks in on elderly or otherwise dependent neighbors.
5. Waters plants when you're away.
6. Offers to split the cost of fencing on the property line.
7. Feeds pets when you're on vacation.
8. Recommends local plumbers, handymen, or other services to you.
9. Picks up litter out front.
10. Lends you things, like a power washer or a tire pump.
Here's The 411 on 420
Many marijuana users hide their stash in their closets. Most people who use marijuana are parents. There are almost as many marijuana users as there are cigarette smokers in the U.S.
Those facts and many more are among the conclusions of new survey from Yahoo News and Marist College, which illustrates how pot has become a part of everyday life for millions of Americans. Here are 11 charts that explain how and why.
No Easter Bunnies Please
https://www.facebook.com/100003628111227/videos/1010424736576880/
The Worst Professions That Women Should Marry Are Cops, Surgeons And…
A divorce lawyer on TikTok is catching heat after claiming women should avoid marrying men with these five jobs, because they tend to be the messiest to divorce: Pilots, surgeons, firemen, cops, and members of the military. Then she doubled down, and said the messiest women to divorce are stay-at-home MOMS.
And The Biggest A-Holes Are…..
Who's the biggest A-HOLE you know? A new study found it probably won't take you long to come up with a name . . .
They don't have to be a close friend, just anyone in your life who's a total jerk.
Researchers at the University of Georgia asked 400 people, and found most of them were able to answer pretty quickly.
This part's amazing though. A full HALF of the A-holes that people mentioned fell into one of these three categories: An old boss . . . an estranged family member . . . or an EX.
Strange Pets On National Pet Day
It's National Pet Day! A recent poll found the top ways we celebrate it are by giving them a special treat, and just telling them we love them. 10% of people even say their pet is their best friend.
Dogs are the most popular pet in America, according to the poll. Cats are a close second, then fish . . . birds . . . hamsters, gerbils, and mice . . . horses . . . snakes . . . guinea pigs . . . lizards . . . and tarantulas got 1% of the vote.
What Guys Don't Actually Probably Care About When It Comes To Ladies
1. Boob size. One guy said it best. Quote, "A good portion of us don't give a [crap] about that."
2. Freckles. Whether it's a few on your face, or lots all over. A lot of guys said they're SEXY, not something you should feel like you have to cover with make-up.
3. Cellulite, stretch marks, and anything else that might be considered a blemish. Men just don't notice them as much as you'd think. One guy said he never noticed his girlfriend's cellulite until she pointed it out.
4. Body hair. For example, a lot of women would freak out if a guy rubbed their leg and there was stubble. But most guys realize it's natural, not a turn-off.
5. Your face without make-up. Some women will do anything to avoid being seen with a naked face. But going without it can make you seem confident. And confidence itself is attractive.
6. Gray hairs. Silver streaks, and natural hair color in general, are both kind of in fashion right now. And a lot of guys wish it was always the trend.

Life Hacks to Learn
Most "life hacks" are good for a couple uses before they're completely forgotten . . . but others are so good that they can become a part of your daily routine. Buzzfeed compiled a list of them . . . here are a few highlights:
1. Keep your alarm clock or phone across the room, out of arm's reach.
2. When working from home, use your breaks to complete simple chores.
3. Get things ready for the next morning the night before.
4. Make "don't put it down, put it away" your mantra.
5. Hang a notepad on your pantry or refrigerator to stay stocked.
6. When cooking, clean as you go.
7. Start your day with a full glass of water.
8. If you have kids, complete YOUR nighttime routine at the same time you're making sure they do theirs . . . especially if you have trouble sticking to it yourself.
Dogs Win this Round Of Gross
Researchers in Europe tested the poop of 85 dogs, and found 17% of samples contained a SUPER STRAIN of E. coli that's resistant to antibiotics. So when you consider that dogs sometimes EAT poop, that suggests it could be in their saliva too.
They also tested the poop of 18 cats, and only one had it . . . which would be 6%, but obviously that's a small sample.
Before you panic, they also tested all the owners' fecal matter, and 13% of those samples had the bacteria too. Everyone in the study was healthy, so it might not be a big deal. But they do think it's best NOT to let your dog lick your face.
How Broken Are Your Kids Remember as a kid, how you could bounce off stuff like a crash dummy and be fine? But now you can hurt yourself just getting out of bed?
A new study found the average child suffers 104 minor injuries a year . . . things like bruises and skinned knees. That's two injuries a week.
Kids between three and five suffer the most injuries. The most common cause is tripping while running. And the most common remedy we offer them is . . . a hug. Here are the ten most common injuries kids suffer . . .
1. Skinned knees.
2. Bruised knees.
3. A bump to the head.
4. A cut on their finger.
5. A skinned-up arm or elbow.
6. Bruised arms.
7. A cut on their lip.
8. Minor scrapes and scratches.
9. Bee stings.
10. Sprained ankles.
The Tweet Heard Round The World
Job Wanting Piece Of Crap
Oh, The Things You've Done For Your Pet
71% of pet owners say they've made a major life change for a pet before. The most common ones include becoming more active, moving into a bigger place, and waiting to have kids.
The most common change we make is a tie between moving into a bigger place, and become more active. For example, walking or jogging more after you got a dog.
44% would do those things for their pets, or already have. Here are a few more life changes we'd be willing to make . . .
1. Changing your work schedule, so they're not home alone all day? 39% would do it.
2. Starting or ENDING a relationship, 35%.
3. Buying a new car with more room, 32%.
4. Choosing whether or not to have KIDS, 32%. That probably includes waiting to have kids, not just skipping it altogether.
5. Moving to a new area that's better for pets, also 32%.
6. Changing jobs, 31%. Seven in ten people also said they'd be willing to take a pay cut if they could bring their pet to work with them.
No More No Pain No Gain
A new report found gyms are offering more MELLOW workout classes as the pandemic eases.
They're seeing more demand for gentle workouts . . . things like guided meditation and easy yoga. And more gyms are adding dedicated "recovery" rooms too, with things like loungers and personal massagers. One guy who's in a stretching class said he just lies on a mat with a pillow for an hour . . . and compared it to nap time in preschool.
It's partly because we're all out of shape after two years on the couch, so people are taking it slow. But it's also because the pandemic shifted our priorities. We're less worried about looking good, and more concerned with FEELING good.
That Annoying Co-Worker
There are benefits to going back to the office, but reuniting with your insufferable coworkers is NOT one of them.
There's a thread online where people are talking about the things that their coworkers do that DRIVES THEM NUTS. The highlights include:
1. When they schedule a meeting, and then at the meeting they ask what the meeting should be about.
2. Sipping beverages loudly.
3. Using speakerphone for personal calls.
4. Asking questions while in a neighboring stall in the bathroom.
5. Strange eating habits . . . like eating popcorn with a spoon.
6. Pushing their MLM side-hustle on you.
7. Taking their shoes off at work.
8. Singing.
9. Being passive aggressive.
10. Talking non-stop about their pets . . . especially cats.
Walk It Out
So, we did a nice long walk last night, but maybe it was too lonng??
Ever since pedometers were incorporated into our watches and phones, lots of us have been striving to reach 10,000 steps per day.
Or at least we were until the pandemic, when everyone was stuck at home and our new goal was more like . . . 500 steps. (Tip: If you carry your phone with you to and from the bathroom, you're halfway there!) (???)
Well, new research from the University of Massachusetts at Amherst found that 10,000 steps is a myth, but there IS an ideal number of steps to aim for. And it's actually LESS. It's getting between 6,000 and 8,000 steps each day.
The study concluded that striving for that range reduces the risk of early death for people who are 60 or older by 54%. But walking more than 8,000 steps doesn't actually add any benefits . . . it just leveled off. There was also no definitive association with walking speed.
For what it's worth, this was comprehensive research, involving over 15 studies on walking and mortality, covering almost 50,000 people across four continents. And it does recommend a goal of 8,000 to 10,000 steps for people UNDER 60.
Who Flung Poo
Here's a weird stat that unites us . . . or, 20% of us at least. One in five people admit they've eaten food out of the TRASH before.
That doesn't mean you went dumpster diving, necessarily. Maybe you just threw half-a-donut away, then reconsidered. The most common reason people gave for eating trash was it looked "perfectly fine" in their opinion.
Here's one more disturbing stat: The poll also found one in six people have eaten food while sitting on the toilet before.
In case you missed anything from a show, we post it here!
We've All Got Fav Chores
The average person spends 237 hours a year cleaning their home, according to a new study. That's the equivalent of about 10 days.
You've really gotta be a glass-half-full person for this next question: People were asked to name the chores they find the most RELAXING. And somehow, our loudest chore got the most votes. Here are the top ten . . .
1. Vacuuming.
2. Wiping down the kitchen.
3. Laundry. At least you can watch TV while you fold.
4. Doing dishes.
5. Tidying up. So, just putting stuff away and organizing.
6. Cleaning the bathroom, or the toilet.
7. Ironing.
8. Mopping.
9. Dusting.
10. Cleaning windows
What You Washin First?
Do you always wash a specific body part FIRST in the shower? Or do you mix it up?
Some lifestyle "expert" claims the spot you scrub first might reveal something about your personality. Here are six body parts and what she says they mean . . .
1. Your face. If it's the first place you wash, you "love money" and might struggle to get along with other people. (Don't both of those things apply to about 90% of us?)
2. Your shoulders. You're loyal, reliable, devoted, and tend to "carry the world on your shoulders."
3. Your armpits. You're attentive, but might come across as naïve and lacking confidence. (Or . . . you're just aware you have smelly armpits.)
4. Your chest. You're honest and loyal, but also stressed out a lot.
5. Your hair. You're a hopeless romantic who's usually immersed in your own thoughts. Also, you have the "temperament of an intellectual and an artist." (???)
6. Random. If you don't go in a specific order, you're an adventurous person who doesn't like to be bored.
Stress-cations!
We're two months into 2022. Have you started thinking about a vacation yet? A new poll found it might depend on how many STRESSFUL WORKDAYS you've had so far this year. The average person starts thinking about their next vacation after just SEVEN stressful days at work.They apparently don't have to happen all in a row. Just seven total since the last time you took a nice long stretch off, which was during the holidays for most of us. So if you've had seven rough days at work since then, you might be ready. According to the poll, here are the top five ways we know it's time for a vacation: You're stressed . . . you're sick of work . . . your significant other is stressed . . . you've got a little extra money saved up . . . and your KIDS want a vacation. Looking forward to your next one is half the fun. Most people said they prefer the anticipation over planning something last-minute. But once we do go on vacation, we relax into it pretty quickly. Almost one in three people said their vacation starts the SECOND they leave work.
TMZ says Kim is Single To Mingle
Kim Kardashian's quest to become a single woman has become a reality because the judge has granted her request to end her marriage to Kanye West. Kim will hereinafter be known just as Kim Kardashian the West is gone. Kim was on a video call for Wednesday's court hearing — her lawyer, Laura Wasser was in court — and Kanye was absent. Kanye's lawyer did not object to restoring Kim's single status, although his lawyer said he had 3 conditions — 1. any right to get reimbursement of money that's supposed to be divided up will be preserved in case either of them dies … the judge granted that condition.
Here's a Bikini Barista bragging about the expensive gifts her customers have given her, in case you missed it this morning (They include a couch, a dining room set, all her kitchen utensils, and a projector TV.)
Things Back At work That Make You Go Hmmmmm
Have the things that annoy us about the office changed in the last two years? Because I don't think all of these would have made the top ten pre-pandemic.
A new survey asked people to name the most annoying things that happen at the office. Here's what people said . . .
1. Coworkers talking too loudly while you're trying to work.
2. People who cough or sneeze without covering their mouth.
3. Coworkers who come into work even though they're sick.
4. Slow computers.
5. I.T. issues.
6. Smelly bathrooms.
7. People who leave dirty dishes in the work sink.
8. When you're in the bathroom and realize someone didn't wash their hands.
9. Gross toilet seats, or toilet bowls.
10. When your computer keeps crashing.
Buffett Brawl
A brawl resulted Friday night at the Golden Corral restaurant in Bensalem, Pennsylvania, after it allegedly ran out of steak. The footage shows diners swinging punches, hurling chairs and screaming insults, with one man plaintively calling out "all I wanted was some steak" during a lull in the melee.
The Price Of Love
According to a study by LendingTree, the average person with a significant other expects to shell out $208 this year, which is up 44%. The average was $144 last year, and $142 in 2020. That's a total of $416 per couple if you have joint finances.
The biggest spenders are people who are just a year or two into their relationships. They expect to drop an average of $247. On the flip-side, people who are less than a year into their relationships are "only" spending $186.
That money DOES include eating out. 37% of couples are planning to go to a special dinner, which is up from 26% last year, when we didn't have vaccines. 25% plan to have a special dinner at home . . . and 16% plan to get take-out.
39% of couples opted to skip Valentine's Day last year to save money, but that number dropped to 31% this year.
Red Hot Brian Scott & The Morning Grind Here
Here's what you missed
A new survey asked people what they do when they want to get out of something, and 63% said they try to "find" other, "more important" things to do instead. They also asked people for the excuse they go with most often, and the most common response was:
1. "I'm too tired."
2. "It's too cold."
3. "I forgot."
4. "I'll start tomorrow."
5. "I didn't sleep well last night."
see more here! (SWNS)
The Gen X Museum
Generation X's "cool" cred has been bleeding out for YEARS now, and this is probably the last nail in the coffin: Gen X is now old enough to get their own museum. In October, the Illinois State Museum in Springfield will open an exhibition called "Growing Up X," and it'll be dedicated to "the last generation to have had an analog childhood." You know, cassettes, VHS tapes, and landline phones. There aren't any further details on the exhibit, but Generation Xers are invited to complete an online survey about their experiences growing up . . . and to loan the exhibition items from that era. So go dig out your old Trapper Keepers!
Magic Retirement Home Brownies
46-year-old Michael Koranda works as an elementary school music teacher in South Dakota, and lives with his 73-year-old mom, Irene. Last Monday night, he made a big pan of brownies before bed. Then Irene found them the next morning, and decided to take them to a card game at her local senior center. But what Irene didn't realize was . . . they were very strong POT brownies. Michael had just gotten back from a trip to Colorado, where he picked up a bunch of THC butter. And he cooked HALF-A-POUND of it into the brownies. 911 started getting calls around 8:00 P.M. that night about multiple seniors who said they'd been POISONED. It turned out they were just really high. Recreational marijuana is still illegal in South Dakota. So police figured out what happened, showed up at Michael's school the next day, and arrested him. He's facing charges for possession of a controlled substance, which is a felony. He could face up to FIVE YEARS in jail, plus a $10,000 fine. (KTIV / The Smoking Gun) (Here's a photo of him.)
Dating in 2022 Terms
The dating site Plenty of Fish just put out a fun list of new dating trends they expect to see in 2022, and they came up with names for all of them. They polled 7,000 single people, and say these are all dating trends that are already happening . . .
1. Communidating: Using dating apps not just for dating and intimate relationships, but also to make friends and connections.
2. Déjà vu-ing: Doing the same things with a new partner that you did with your ex.
3. Handticipation: Being unsure about the physical boundaries that are acceptable, like whether to hug, shake hands, or fist bump your date.
4. Hesidating: Being unsure if you want to date seriously or casually, because life is so weird and uncertain right now.
5. Resigning: Ending a serious relationship due to perspective and clarity gained through the pandemic.
6. Darwining: Refusing to date someone who doesn't believe in science. A third of single people say they know someone who's done it.
7. Baecations: Taking someone you just started dating on vacation, because YOLO.
Avoid Inappropriate Party Blunders
If you want to wear a Halloween costume to work, tomorrow's the day to do it. Just make sure you don't pick a costume that could get you FIRED. One in seven people say they've seen a coworker wear an inappropriate costume to work before. The most common ones include political costumes, and anything that shows too much skin. Here are a few quick stats on office Halloween parties . . .
1. 57% say their company will celebrate Halloween in one way or another this year.
2. 77% of employees say they enjoy office Halloween parties. 23% hate them.
3. Whether there's a party or not, one in three people plan on dressing up for work.
4. 36% expect some of their coworkers to dress up too.
5. 27% think their boss will probably wear a costume this year.
Here's What It Looks Like When You Bump Into Jay Z
😂 oh no pic.twitter.com/bTaRLK0eTN

— David Amaya (@AmayaNYC) October 28, 2021
Living Slow Is Finally Catching On!
It's as though being "busy" automatically mean you're successful . . . popular . . . productive . . . and driven. But perhaps some of those people are ACTUALLY tired and on the brink of burning out. That could be why the concept of "slow living" is starting to pick up steam as something good. There are more than 3.5 million posts for #TheArtOfSlowLiving on Instagram, and things like self-care, "me-time," and saying "no" to invites are now being celebrated on social media. "Slow living" fans argue life is better when you can appreciate things as they happen . . . rather than manically ticking things off your to-do list.
It's unclear if the pandemic had an impact on this becoming a thing. But it definitely forced people to spend more time at home . . . and it cut back on the running around that many people did in their pre-pandemic hustle.
SUPERMAN is coming out as BISEXUAL in the comics. This Superman is Jon Kent, the son of Clark Kent and Lois Lane. In the November 9th issue, he becomes romantically involved with a college friend.
DAVID ARQUETTE recently bought the rights to BOZO THE CLOWN, and he has big plans. He says, quote, "You have to kind of think of it as 'Spider-Man: Into the Spider-Verse'." So, a BOZO-VERSE.
Netflix says it's not scrapping DAVE CHAPPELLE's new special, "The Closer", even though it offended trans people. They said they don't believe the show was designed to, quote, "incite hate or violence."
During a SMASH MOUTH gig this weekend, STEVE HARWELL was wasted. He was mumbling, swearing at the crowd, dropping drinks, and even gave a Nazi salute. Steve recently missed a few gigs due to heart issues.
Of all the people you WOULDN'T want to look like. There's a guy on TikTok with the handle @notbrianlaundrie who keeps being mistaken for Brian Laundrie. That's the guy who everyone has been looking for since his girlfriend Gabby Petito was found murdered. (Here he is talking about when he first found out who Brian Laundrie is.) https://www.tiktok.com/@notbrianlaundrie?lang=en&is_copy_url=1&is_from_webapp=v1
Earlier this month, people were complaining on Reddit about things that USED to be great, but suck now . . . like YouTube before it had ads, and thrift stores before they got trendy and picked over. Then that Reddit thread went viral, so now even MORE things have been added. Here are a few good ones . . .
1. Concerts, because they used to be a lot cheaper. You could see major bands for 30 bucks. Now you can easily pay five times that for a decent seat.
2. Films. The writing sucks, and all the money goes to remakes and Marvel movies.
3. Make-up. It used to be fairly simple. Now social media makes it seem like you need a hundred different primers, creams, and contouring tools.
4. Fast food. It's never been good for you, but it's even more unhealthy now. A report just last week also said drive-thrus have gotten slower and less accurate.
5. The news in general. It seems like there's more bad news than ever. And everything's sensationalized, like it's the end of the world.
6. Theme parks. They're insanely crowded and expensive now. In 1981, a one-day pass to Disney World was $9.50. Adjusted for inflation, that's about $29 today . . . but the actual price in 2021 is $109 to $159, depending on when you go.