Meet Joey! Brian's best friend/cat, they met each other 4 years ago at PCAPS when Joey lost his humans.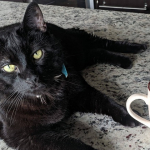 And now Brian is so busy on the air that he has decided to let Joey P. Catsworth pick a new set of pets that need new furever homes every week! Check out these lovable poofs of fur this week!
Contact PCAPS here to find out about these, or others!
This 2 year old neutered black and white Pit Bull is just a hunk of love is ready to play and is super fun. Very treat motivated, knows "sit" and working on "stay" and "come ". Can get a little jumpy when waiting for you to throw a ball or rope but if you tell him to sit first he will. He does fine with most dogs not sure about cats but loves kids.  His adoption fee is $100 dollars this includes all his vaccinations.
Dinka is an 11 year old spayed brown tabby.  She can be sassy at first just because she is unsure but then once she is comfortable with you she will love all over you.  She likes to lay around our cat room and doesn't cause much trouble.  She would just like to hangout in someone's house for the rest of her days.  Her adoption fee is $10 dollars this includes all her vaccinations.