Z923 with Brian & The Morning Grind Daily Most Trending!
Here's the most TRENDING!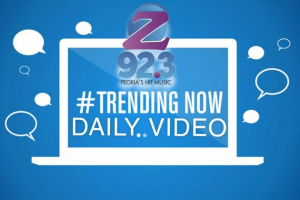 #Nicki Minaj's COVID-19 Vaccine Impotence Not True
#Pokeman stole our Covid money
Jay Z & LL Cool Head to Rock N Roll Hall of Fame
Happy Earth Day!  Here's some tips to SAVE US!!!
Beyonce signs a big big deal! right here
We got the movies for the easily ascaaaared right here!
Logic spent a record amount on Pokemon. Facts right here
We look at the history of Halloween! Right here!
What's the worst way to find out about your break up?  Demi did it!  Or did she? Right here!
All about pumpkins & fall & pumpkins! See the video here!
Momumental Day across the US & for us in Illinois! See the video here!
Ellen speaks about her on set misconduct! See it here
Beyonce bringing them smiles again!  See it right here!
Tik Tok is good to go for Peoria, Central Illinois & USA! See more here!
Jason Derulo & his love life! See it direct from Jason Deruuulo here!
Justin Timberlake wants another major league baseball team! See the JT news here!
Will Smith says it's a yes for Fresh Prince reboot!  Will Smith says it first here!
Central Illinois Taco Bell anncounce 5 more changes! See the sad news here
Rock announces on Social Media he & fam had Covid 19!  Watch the Rock here
Happy Birthday to one of Jordan's hero's!  See who in the video here
 Peoria part of Black Panther 104% increase! Watch today's video here
TJordan finds some free Netflix!   See the video here
 MTV VMA's winners on Z 923! Watch the video here