Red Hot Brian Scott & The Morning Grind Here
Here's what you missed
here's the whole list of deals for our Veterans today!
Here's a few more, 
It's Veterans Day, and the absolute least we can do is thank a veteran for their service.  But the NEXT-least thing we can do is tell them how to get a free donut or plate of boneless wings.
Lots of restaurants are offering discounts or free stuff for veterans today.  Here are some of the best deals out there
1.  Outback Steakhouse is giving out free Bloomin' Onions to veterans.  That's like a week's worth of delicious calories.  You can also get a free Coke, which pairs well with 17,000 grams of sodium.
2.  Starbucks is running its annual Veterans Day special where veterans, active-duty military, and military spouses get a free small . . . a.k.a. "tall" . . . hot coffee.
3.  Dunkin' is giving out a free donut to veterans, no purchase necessary.  And Krispy Kreme is offering a free donut AND coffee.
4.  Other restaurants offering deals for vets today include Olive Garden, Buffalo Wild Wings, IHOP, Texas Roadhouse, Denny's, Applebee's, California Pizza Kitchen, Chili's, and Hooters.  Basically, most chain restaurants have some sort of deal.
 The dating site Plenty of Fish just put out a fun list of new dating trends they expect to see in 2022, and they came up with names for all of them.  They polled 7,000 single people, and say these are all dating trends that are already happening . . .
1.  Communidating:  Using dating apps not just for dating and intimate relationships, but also to make friends and connections.
2.  Déjà vu-ing:  Doing the same things with a new partner that you did with your ex.
3.  Handticipation:  Being unsure about the physical boundaries that are acceptable, like whether to hug, shake hands, or fist bump your date.
4.  Hesidating:  Being unsure if you want to date seriously or casually, because life is so weird and uncertain right now.
5.  Resigning:  Ending a serious relationship due to perspective and clarity gained through the pandemic.
6.  Darwining:  Refusing to date someone who doesn't believe in science.  A third of single people say they know someone who's done it.
7.  Baecations:  Taking someone you  just started dating on vacation, because YOLO.
Avoid Inappropriate Party Blunders
 If you want to wear a Halloween costume to work, tomorrow's the day to do it.  Just make sure you don't pick a costume that could get you FIRED. One in seven people say they've seen a coworker wear an inappropriate costume to work before.  The most common ones include political costumes, and anything that shows too much skin. Here are a few quick stats on office Halloween parties . . .
1.  57% say their company will celebrate Halloween in one way or another this year.
2.  77% of employees say they enjoy office Halloween parties.  23% hate them.
3.  Whether there's a party or not, one in three people plan on dressing up for work.
4.  36% expect some of their coworkers to dress up too.
5.  27% think their boss will probably wear a costume this year. 
Here's What It Looks Like When You Bump Into Jay Z
😂 oh no pic.twitter.com/bTaRLK0eTN

— David Amaya (@AmayaNYC) October 28, 2021
Living Slow Is Finally Catching On!
It's as though being "busy" automatically mean you're successful . . . popular . . . productive . . . and driven.  But perhaps some of those people are ACTUALLY tired and on the brink of burning out.  That could be why the concept of "slow living" is starting to pick up steam as something good.  There are more than 3.5 million posts for #TheArtOfSlowLiving on Instagram, and things like self-care, "me-time," and saying "no" to invites are now being celebrated on social media.  "Slow living" fans argue life is better when you can appreciate things as they happen . . . rather than manically ticking things off your to-do list.
It's unclear if the pandemic had an impact on this becoming a thing.  But it definitely forced people to spend more time at home . . . and it cut back on the running around that many people did in their pre-pandemic hustle.
SUPERMAN is coming out as BISEXUAL in the comics.  This Superman is Jon Kent, the son of Clark Kent and Lois Lane.  In the November 9th issue, he becomes romantically involved with a college friend.  
DAVID ARQUETTE recently bought the rights to BOZO THE CLOWN, and he has big plans.  He says, quote, "You have to kind of think of it as 'Spider-Man: Into the Spider-Verse'."  So, a BOZO-VERSE.
Netflix says it's not scrapping DAVE CHAPPELLE's new special, "The Closer", even though it offended trans people.  They said they don't believe the show was designed to, quote, "incite hate or violence." 
 During a SMASH MOUTH gig this weekend, STEVE HARWELL was wasted.  He was mumbling, swearing at the crowd, dropping drinks, and even gave a Nazi salute.  Steve recently missed a few gigs due to heart issues. 
Of all the people you WOULDN'T want to look like.  There's a guy on TikTok with the handle @notbrianlaundrie who keeps being mistaken for Brian Laundrie.  That's the guy who everyone has been looking for since his girlfriend Gabby Petito was found murdered.  (Here he is talking about when he first found out who Brian Laundrie is.) https://www.tiktok.com/@notbrianlaundrie?lang=en&is_copy_url=1&is_from_webapp=v1
Earlier this month, people were complaining on Reddit about things that USED to be great, but suck now . . . like YouTube before it had ads, and thrift stores before they got trendy and picked over.  Then that Reddit thread went viral, so now even MORE things have been added.  Here are a few good ones . . .
1.  Concerts, because they used to be a lot cheaper.  You could see major bands for 30 bucks.  Now you can easily pay five times that for a decent seat.
2.  Films.  The writing sucks, and all the money goes to remakes and Marvel movies.
3.  Make-up.  It used to be fairly simple.  Now social media makes it seem like you need a hundred different primers, creams, and contouring tools.
4.  Fast food.  It's never been good for you, but it's even more unhealthy now.  A report just last week also said drive-thrus have gotten slower and less accurate.
5.  The news in general.  It seems like there's more bad news than ever.  And everything's sensationalized, like it's the end of the world.
6.  Theme parks.  They're insanely crowded and expensive now.  In 1981, a one-day pass to Disney World was $9.50.  Adjusted for inflation, that's about $29 today . . . but the actual price in 2021 is $109 to $159, depending on when you go. 
Rich People Problems
Americans have a LOT on their plate right now. But there's one issue that gets overlooked:  RICH KIDS' INHERITANCES.  In a new survey, 67% of millionaires say they're worried about leaving "too much" money to their kids.  They don't want them blowing the money . . . and having the size and profile of the estate NEGATIVELY affect them.  They also don't want to make them LAZY . . . and they think that there could be better uses for the money, like charities. Still, one-third of millionaires plan to leave at least half of their assets to an heir . . . while two-thirds say they plan on leaving at least part of their estate to charity.  And check this stat:  The wealthiest 1% of Americans receive inheritances worth an average of $719,000, while the bottom 50% get an average of $9,700.  (The Motley Fool)
Were Doing It At Least 96 Times A Day
The tech company Asurion says Americans check their phones 96 times a day, which is about once every 10 minutes you're awake.  That's up 20% from a similar poll in 2017.  (And up a THOUSAND percent from how often people would look at their pocket watches and rotary phones 60 years ago.) But it might not be a bad thing.  Nearly half of Americans say their smartphones help them achieve MORE work life balance, not less.
Do you use the bathroom as a place to ESCAPE more than you did before the pandemic?  42% of people say they do it now.  And over half of us sometimes take extra-long showers just to get more alone time.
The Most Common "Unusual" Things We Do in the Bathroom
People were also asked to name "unusual" things they've done in a bathroom.  Meaning stuff you wouldn't normally associate with the phrase "USING the bathroom."  Here are the ten most common answers . . .
1.  Getting away from people to CRY.
2.  Reading a book.  Is that "unusual"?  It was normal before we all had cell phones.
3.  Sex.
4.  Hiding out in the bathroom to avoid people.
5.  Trying on new clothes.
6.  Taking a phone call.
7.  Washing your dog.
8.  Falling asleep in the tub.  Falling asleep on the TOILET also made the list at #33.
9.  Having coffee or tea.  Beer made the list too at #25.
10.  Hanging stuff up to dry, like a bathing suit on your shower curtain rod.
Yes to Halloween 2021!
https://www.instagram.com/p/CTyAFhIMYst/?utm_source=ig_embed&ig_rid=8fb49f64-9c21-4c7e-897b-a87ce4481539
Onion Huffing Covid Pro Tip
This sounds more like a prank than anything.  And it's another reminder that social media isn't the best place for reliable health advice:  People are now huffing the fumes from ONIONS because they think it kills the coronavirus. Memes claiming it's true have been circulating on Facebook, especially in Asia.  They say to cut an onion in half . . . cup it against your nose and mouth . . . and take a series of deep breaths.  But there's ZERO evidence it actually does anything except make your eyes water and your breath stink. It's gained so much traction that the news outlet AFP felt the need to debunk it.  One doctor they talked to said it's just more bogus misinformation that could actually be harmful to the general public.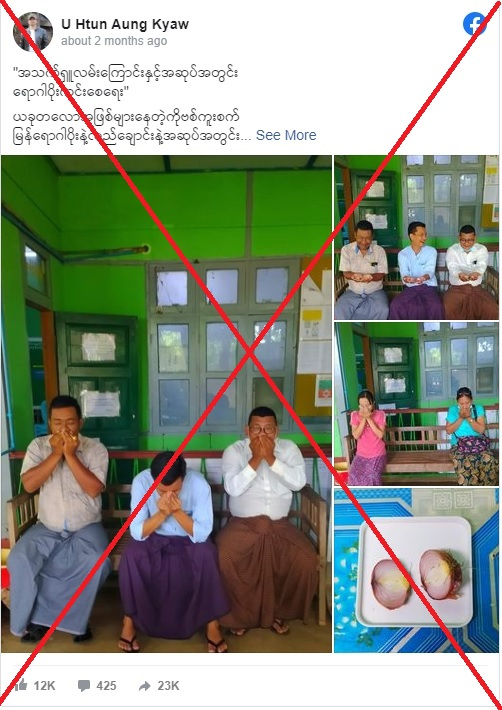 Tacky or totally fair?  A couple from Chicago named Doug and Dedra Simmons recently had a destination wedding in Jamaica.  And one couple who RSVP'd didn't show up.  So Doug and Dedra CHARGED them for no-showing.  They say the couple told them four different times that they were coming, and never called to cancel.  So they sent them an INVOICE for $240 . . . $120 for each seat at the reception that they left empty.
As always, the reactions online are mixed.  Some people say it's totally fair to charge them since the bride and groom had to pay upfront for them to be there.  Other people think it's petty.  Doug and Dedra say it's not about the money though.  They just think it was disrespectful. See all the comments here!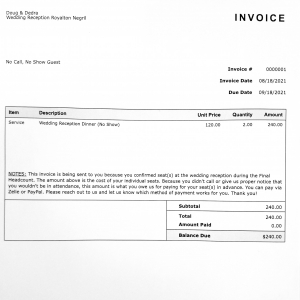 Zoo-Riffic News
Last year CAROLE BASKIN assumed ownership of JOE EXOTIC's zoo in Oklahoma as part of a legal settlement.  And she has officially dismantled it.  She sold it to a couple last June for $140K, but it came with a few stipulations.  First off . . . the property CANNOT be used as a zoo or to house exotic animals for 100 years.  And secondly, the owners cannot name any business on the property after "Tiger King", its former name the G.W. Zoo, Joe's name, or even the words "tiger" or "big cat".  Carole's husband said, quote, "If it became an RV park or storage unit . . . We don't want it named the Tiger King RV Park.  We would like the 20 years of mistreatment of animals there to be forgotten and be history."
It's National Dog Day
Here are a few dog facts to help celebrate.
1.  53% of Americans think dogs make better pets than cats.  Only 21% said cats.  Everyone else couldn't decide, or said they don't like cats OR dogs.
2.  49% of Americans consider themselves a "dog person."  Only 21% said they're a "cat person."
3.  79% of women and 67% of men find it attractive when someone is outwardly affectionate toward dogs.
4.  A recent survey found ALL states love dogs, but people in California, New York, and Washington love them the most.
5.  68% of dog owners let their dog sleep with them at least once a month.
6.  A poll found 45% of Americans have at least one dog living with them.  It was done before the pandemic though, so it might be higher now.
7.  One in three Americans say a hot dog is a sandwich.  That's not an ACTUAL dog fact, but it's dog-adjacent.
8.  Our favorite dog breeds in 2021 are Labs, golden retrievers, and Alaskan malamutes.
9.  49% of us think we could beat a medium-sized dog in a fight.  23% also think they could take down a large dog if they really needed to.
10.  Just like fingerprints, every dog's nose print is unique.
Ladies Done With Make Up
A survey last summer found 71% of women who normally wear makeup were using less of it.  And beauty product sales were down 25% at that point.  They've started to rebound since then.  But a lot of women say they just can't see themselves spending 30 minutes a day painting their face up anymore.
Sucky Summer So Far
A new survey of 1,500 Americans found 80% of us had a, quote, "bummer summer."  But 48% also wish there was a way to extend it for another two weeks.  (There's actually almost a month of summer left, by the way.) 
Here are a few questions you should ask your partner BEFORE you get married  
1.  "How should we handle money?"  Are we going to get a joint bank account?  Who's going to put the bills in their name?  How much debt do you have and what's our plan to get out of debt?  All important decisions.
2.  "How should we divide the chores?"  50/50 seems best unless one person works a lot more.  Then the person who's not working as much might offer to pick up the slack.
3.  "How are we going to handle disagreements?"  Try pretend fighting, and see how it goes.  If it turns into a REAL fight, that's a big clue you have issues to work out first.
4.  "Are you open to couples therapy if we need it?"  Being able to communicate what you are and aren't comfortable with is important.
5.  "Where will we spend the holidays?"  Will you do Thanksgiving with one family, and Christmas at another?  Again, it's best to plan way ahead.  Traditions are hard to break, and people get sensitive about the holidays.
6.  "Do you want kids?  And how will we parent?"  Just make sure you're both on the same page, because it's one of the MOST important things to talk about.
Doin big things with Bruno Marrs lately is ANDERSON .PAAK, who just got a tattoo on his forearm that says, quote, "When I'm gone, please don't release any posthumous albums or songs with my name attached.  Those were just demos and never intended to be heard by the public."  Couldn't be any clearer than that.
Anderson .Paak got a new tattoo warning against any posthumous music when he's gone. pic.twitter.com/P5KIxGrppv

— HipHop-N-More (@FreeHHNM) August 17, 2021
Google Trends put out a list of the top tattoo designs we've been googling this year.  And a few classics made the list.  But there are also a few surprises .
1.  Butterflies.  They've been popular for a long time, and lots of celebrities have them.
2.  Semicolons.  They're a suicide awareness thing.
3.  Sunflowers.  Vanessa Hudgens got one last year.
4.  Roses.  So flowers in general are still really popular.
5.  Skeleton hands.
6.  Koi fish tattoos.
7.  Snakes.
8.  Medusa.  So another snake-related one.
9.  Lotus flowers.
10.  Cross tattoos.
Amazon & Gone
According to a survey, the average American wastes over $70,000 in their lifetime on disappointing online purchases.  To come up with that, they took an average of $899 per year, and extended it over a life expectancy of 78.54 years. The most common types of unsatisfying buys are clothing, tech, and kids toys . . . and the disappointment is often because the quality isn't as good as expected, or it turned out to be the wrong size or color. Sending an item back isn't always worth it, but we do return an average of four online purchases a year, or roughly 314 returns over a lifetime. People also shared some of their most disappointing purchases.  They include:  A "leather jacket" that turned out to be plastic . . . steaks that "tasted like shoes" . . . an alarm clock where you couldn't lower the brightness . . . a fan that didn't blow air . . . a "very uncomfortable" recliner . . . and a box that arrived EMPTY.
IHOP & Booze Come Together
If pancakes and BEER sound like a fun pair, IHOP has you covered.  They just announced they're adding beer, wine, and champagne to their menu at some locations.  Only a dozen are doing it right away.  But if it goes well, they eventually want to do it at most of their restaurants in the U.S. They WON'T be offering liquor because they don't want it to feel like a bar.  And they say it's mostly meant for people who come in later in the day.  But it also seems like they want IHOP to became more of a brunch spot.  And a promo photo they posted shows someone pouring a mimosa.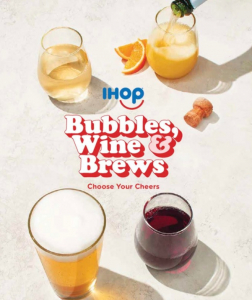 Divorce Vibes Feelin Great
It was a good day yesterday for KELLY CLARKSON.  She got an email on the set of "The Voice", telling her that her prenup had been upheld.  When she received the email, she reportedly let out a scream and had a celebration with her co-stars.  The prenup separated all of her assets and income earned during her marriage to talent manager Brandon Blackstock, including the Montana ranch that he's currently living on. Brandon had wanted their properties split, along with all of the income that Kelly earned while they were together . . . but the judge basically said not today, Brandon.  In related news, BLAKE SHELTON recently got rid of Brandon as his manager.  (TMZ)
Big Foot Birthday
A mother in Oklahoma was hosting a birthday party for her six-year-old girl . . . and she was bummed because her plans for a cake fell through.  So she came up with a bizarre back-up plan.  She hired "Mrs. Bigfoot" . . . a.k.a. "Cinnamon" . . . who would be in costume, and would surprise the kids by peeking in the windows at the party. Mrs. Bigfoot showed up, and the kids were immediately horrified, and began screaming, running, and crying.  Mrs. Bigfoot went in the house . . . and the kids eventually warmed up to her a little, but the mother says the kids still say they never want to see her again.  Mrs. Bigfoot arrived with balloons, wearing a tutu and a bow in her hair . . . so the mom says she thought it would be "cute and fun."  But the kids "did not have that reaction." Here's the video!  (KJRH) 
And Now we Give You, Hot Dog Apple Pie
The New York Yankees and Chicago White Sox are playing on the "Field of Dreams" field in Iowa on Thursday, but GUY FIERI will be taking attendees to Flavortown.  He's created a special hot dog apple pie just for the occasion . . . 'cause there's nothing like jamming together two timeless American dishes for America's favorite pastime.  The delicacy is described as a hot dog smothered in Guy's homemade bacon jam and apple filling, then placed inside a flakey rectangle-shaped pie crust . . . then drizzled with apple mustard, brown sugar, and apple pie spice.  He calls it a, quote, "funky throwback snack" and can't wait to see what people think of it. See it for yourself here!
Sexy Jobs And The Not So Sex
The hottest job a guy can have in 2021 is DOCTOR . . . and the hottest job for women is NURSE. The ten jobs women want men to have are:  Doctor . . . lawyer . . . carpenter . . . engineer . . . project manager . . . firefighter . . . construction worker . . . software developer . . . mechanic . . . and accountant.  The top jobs men find attractive for women are:  Nurse . . . elementary school teacher . . . doctor . . . secretary . . . lawyer . . . dancer . . . middle school teacher . . . waitress . . . hairdresser . . . and receptionist.  (So secretary AND receptionist made the list.)  Now here are the LEAST attractive jobs you can have in 2021 .   According to women, the least attractive jobs for men are:  Fast food worker . . . janitor . . . truck driver . . . cashier . . . and maid.  According to men, the least attractive jobs for women are:  Janitor . . . truck driver . . . fast food worker . . . plumber . . . and security guard.
Corn Ribs
TikTok just keeps pumping out weird, new food ideas.  Here are two more summer foods that are trending right now .  "Corn ribs" are now a thing, and they're exactly what they sound like . . . ribs, but made out of corn. If you cut an ear of corn lengthwise into quarters, they'll curl up when you cook them.  So they end up the same shape as ribs.  Then you just season them and toss them in the oven, or an air fryer.  People say they're great.  (Here's a video.)
August is Back-to-School Month.
A new study looked at the hardest parts of school for kids LAST year.  And missing their friends was #1.  Missing friends, staying focused, and worrying about the pandemic were the top challenges kids faced in school last year.  Tech issues also ranked high.  The #1 thing PARENTS are worried about is if their kids have forgotten how to socialize.  But they're still MORE than ready for them to get back out there.  Parents were asked to name the top things they're excited for this school year.  And there's a common theme here.  A lot of parents want their ME TIME back . . .
1.  Getting kids back into social settings.  So, anywhere other than home.
2.  The whole family getting back to their normal routine.
3.  Being MORE involved with kids' schoolwork than in previous years.  So a lot parents feel more confident after all the homeschooling that happened.
4.  Celebrating the start of the new school year.  So, things like school orientations . . . or having the freedom to day-drink on a Monday again.
5.  Having more time to focus on yourself.
Getting them back into extracurriculars and sports also ranked high.