Red Hot Brian Scott & The Morning Grind Here
Here's what you missed …
Sunday is National Pet Day, so that's a chance to be even MORE obsessed with your pet than normal.
Here are the results of a survey in honor of the holiday . . .
1.  The most popular pet in the U.S. is . . . a dog.  45% of people who own a pet have a dog.  Cats are second, at 30%.
2.  The rest of the 10 most popular pets are:  Fish . . . birds . . . hamsters or gerbils . . . horses . . . snakes . . . guinea pigs . . . lizards . . . and tarantulas.  Yes, around 1% of people who own a pet have a pet tarantula.
3.  10% of Americans say their pet is their best friend.
4.  11% of people say they specifically "hang out" with their pets.
5.  And finally, 10% have conversations with their pets.
Celebrity Top 5
5. There's a new list of songs with "problematic" lyrics that should've "never been recorded."  It includes "Blurred Lines" by Robin Thicke, "Run for Your Life" by The Beatles, and "Jailbait" by Ted Nugent.  (Full Story)
4.  A previously unreleased PRINCE album called "Welcome 2 America" is coming out July 30th and it was recorded in 2010.  In the title track, Prince rants about golden parachutes, social media, reality-TV celebrity culture, and corporate monopolies.  (Full Story)
3. The company that made those "Satan shoes" for LIL NAS X now has to institute a voluntary recall, thanks to a settlement with Nike.  Meanwhile, Lil Nas X unveiled a free online game called "Twerk Hero".  (Full Story)
2. Peacock has greenlit a "Queer as Folk" reboot.  (Full Story)
1. DMX is still alive, but there's been no improvement in his brain function . . . so things aren't looking good
Celebrity Dirty Top 5
1.  The new cover story on JENNIFER LOPEZ in "InStyle" magazine includes praise from Marc Anthony and Ben Affleck . . . but not a word from Alex Rodriguez.  Is it because of their relationship issues?  At least one source says it is.  (Full Story)
2. Now that he's a single dad, CHANNING TATUM knows his daughter better than ever.  Quote, "I jumped with both feet into this magical world, and I was rewarded with a kind of love that I don't think I would have ever been able to have otherwise."  (Full Story)
3. Keeping up Thor's body means not being taken seriously, according to CHRIS HEMSWORTH.  He says, quote, "Bodybuilding is seen as vanity, whereas if I put on a bunch of unhealthy weight, or got unhealthily skinny for a role, I'd probably be called a serious actor."  (Full Story)
4. MILLIE BOBBY BROWN says some of her fans don't want her to grow up.  (Full Story)
5. Marvel's third "Black Widow" trailer got 70 million views in the first 24 hours.  (Full Story)
Who watches TV anymore, anyway?
90% of people now say they use their phone or tablet while they're watching TV, according to a new survey.
And more than a quarter of them are using their phone to text with other people about what they're watching or check out what people are saying about the show on social media.
Hair Today, Gone Tomorrow
She surprised her husband with this!  His reaction was the best!
Loved As A Kid, Hated As An Adult
Right now people on Reddit are answering the question:  "What's something you loved as a kid but hate as an adult?"  And it'll really make you remember how great it was to be an innocent, dumb kid.  Here are some of the best answers .
1.  "Getting mail.  As a kid it was exciting . . . now it's just bills."
2.  "Growing up.  Couldn't wait to grow up when I was a kid, but dread getting older now."
3.  "Carnival rides.  Used to love 'em . . . now I [get] super sick."
4.  "Swimming in public pools."
5.  "Being sick.  When I was a kid it meant staying home from school and watching [TV].  As an adult it means no paycheck and shame."
6.  "Lots of sugar."
7.  "Facebook.  Used to be great for meeting up with friends or girls . . . now it's aunts and uncles fighting over politics."
Celebrity Dirty Top 5
1.  JAY LENO is sorry for DECADES of jokes targeted at Asians over the years.  He said his attitude was often "Screw 'em if they can't take a joke" . . . but at the same time, in his heart he always knew that they were wrong.  (Full Story)
2.  Buzzfeed has a list of actors who had to FIGHT for roles, and they've since become so iconic that you couldn't imagine anyone else doing it.  A couple of them include Lady Gaga in "A Star Is Born" . . . Aaron Paul on "Breaking Bad" . . . and Patrick Swayze in "Ghost".  (Full Story)
3.  Two racially questionable things have been taken off the WWE Network.  One involves RODDY PIPER painting half his body black to fight a black opponent, and the other is a "comedy" skit where boss VINCE MCMAHON tries to be hip by calling JOHN CENA "My [N-word]."  (Full Story)
4.  SARA GILBERT's first girl kiss was with DREW BARRYMORE during the filming of the 1992 movie "Poison Ivy".  The script called for them to kiss, so they decided to practice in a trailer.  Drew admitted it was, quote, "kind of fun."  (Full Story)
5.  COLE SPROUSE says he watches "The Suite Life of Zack & Cody" when he's drunk or feeling narcissistic.  Quote, "I know it sounds cheesy, [but] I still have a really deep fondness for 'The Suite Life'."  (Full Story)
Penny Payout
A guy named Andreas Flaten gave his two weeks' notice back in November at Walker Luxury Autoworks in Peachtree City, Georgia.  And he says the owner was so upset, he put his hands on his head, walked out, and disappeared for an hour.  But the company still owed Andreas $915 . . . and they never sent it to him.  He wound up calling the Georgia Department of Labor to complain. And the company finally delivered his paycheck on Friday . . . by dumping 500 POUNDS of PENNIES covered in OIL on his driveway.  There was also a note that said, "[Eff] you."  Andreas says he quit the job because it was a toxic work environment . . . and this really backs that up.  He shoveled the pennies into his garage and he's working on cleaning the oil off so he can cash them in.  Here's the video!
For The Love Of Meat
This woman WAS cheating on her boyfriend in a way.  Just NOT the way he thought.  A 22-year-old woman anonymously posted a story on Reddit about how her three-year relationship ended recently when her 24-year-old boyfriend noticed she was making a lot of suspiciously long trips out of the home.  He confronted her last week for cheating on him and dumped her.  And she told him what was really happening.  He's a VEGAN . . . and she was sneaking out to go to McDonald's to eat meat.  He didn't believe her but she swears it's true . . . and now she's trying to figure out how to prove it.  Quote, "I never thought my relationship would end over something so stupid."
Celebrity Dirty Top 5
1.  JENNIFER GARNER doesn't have many family photos because her kids were traumatized by the paparazzi when they were younger, and they were afraid of cameras.  She also says she's not one of those women whose body "bounced back" after having kids.  (Full Story)
2.  BEKAH MARTINEZ from "The Bachelor" is responding to claims she's not "Mexican enough" after appearing on the cover of "Parents Latina".  She says, quote, "I'm Latina and I'm proud.  No one can take that away from me."  (Full Story)
3.  WILLIAM SHATNER turns 90 on the 22nd of this month.  And he's reportedly having a party on a replica of the Enterprise.  Tickets will be 50 bucks, but special packages go all the way up to $1,500.  It's happening sometime in July.  (Full Story)
4.  KIM KARDASHIAN and KANYE WEST are no longer speaking.  Kanye changed all his numbers and only wants Kim to contact him through his security.  And when he visits the kids, she's not at home.  (Full Story)
5.  Everyone wants to know who in the royal organization was concerned that Prince Harry and Meghan Markle's children would be too black.  But Harry made it clear to Oprah after their interview aired Sunday night that it wasn't his grandparents, Queen Elizabeth and Prince Philip.  (Full Story)
Burger King Celebrates Women In The Kitchen
Burger King really put the cliché "all publicity is good publicity" to the test yesterday.  It was International Women's Day yesterday, and Burger King U.K. decided to celebrate the day by tweeting, quote, "Women belong in the kitchen."  That's it.  That was the whole tweet.  They followed up with other tweets saying, quote, "If they want to, of course.  Yet only 20% of chefs are women.  We're on a mission to change the gender ratio."  And they talked about a scholarship program for female employees.  But it was too late.  The first tweet got HAMMERED all day.  As one person tweeted, quote, "Please don't use sexism as clickbait."  And things got toxic when sexist trolls came out in full force to go after people who had problems with the tweet.  Burger King U.K. tried to defend the tweet at first, but eventually wound up tweeting an apology, quote, "We hear you.  We got our initial tweet wrong and we're sorry." They deleted the "women belong in the kitchen" tweet last night.
Royal Hatred
In their interview with OPRAH, we located a gem! Here's a bonus clip that didn't air Sunday night, Meghan discussed her father betraying her and going to the media.
the rest of the interview that aired has PRINCE HARRY and MEGHAN MARKLE revealing that there is a person or persons within the Royal organization who was worried about the skin color of their future children.    Harry and Meghan declined to name names.  But they want you to know who it WASN'T.  On "CBS This Morning" yesterday, Oprah said that after the interview aired, Harry told her that it wasn't QUEEN ELIZABETH or her husband PRINCE PHILIP.  Meanwhile, "Us Weekly" spoke to a body language expert who picked up several verbal and nonverbal hints that Meghan was HOLDING BACK when she spoke about the Queen.  If you recall, she really had nothing bad to say about her.  But the expert says, quote, "Her words came out stilted, almost as if she had rehearsed saying something nice about the queen."  She added, quote, "When asked Meghan about her first meeting with the queen, you could see Meghan's energy shifted immediately."  Another body language expert says that Harry's behavior indicated that he has love for the Queen and PRINCE WILLIAM . . . but he showed anger and resentment toward his father, PRINCE CHARLES.  Not surprisingly, ratings for the interview were spectacular.  An average of 17.1 million viewers tuned in . . . which is more than the "Golden Globes" and the "Emmys" combined.
Date Refund
This is a bold move, that's for sure.  A woman named Alex Coboth from Milwaukee, Wisconsin just tweeted a screenshot of the texts a guy sent her when she ended things after three dates.  Quote, "It's only fair to ask for equal payment from you from the dates we went on . . . I paid for both of us each time.  I'd say $35 is more than fair for your food and drinks . . . I view you as a fair girl, I hope you'll consider reimbursing me."  Now her tweet is going viral . . . and she hasn't sent him any money.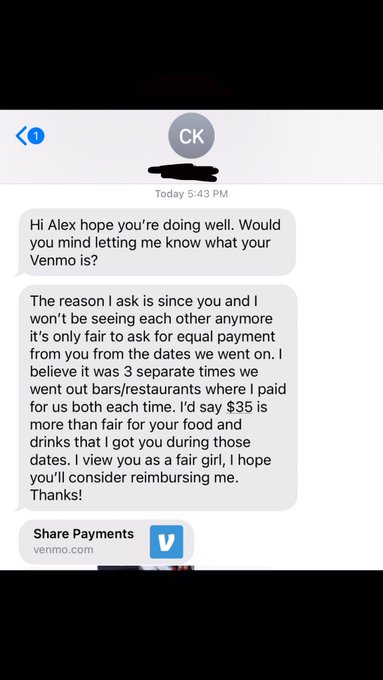 Multi Colored Hot Goat Alert
A woman in Alabama was arrested recently after she stole a neighbor's goat . . . PAINTED it . . . and then took a bunch of photos for social media.  She's looking at a FELONY charge for livestock theft.  On one hand, this woman's facing some serious criminal charges.  But on the other hand, I bet she got at least 15 likes on Instagram.  So totally worth it. There's a 34-year-old woman named Erica Farmer in Gulf Shores, Alabama.  And she recently stole her neighbor's GOAT . . . PAINTED it . . . and then took a bunch of photos for social media. The goat's owner figured out what happened and called the cops.  They found the goat at Erica's house.  And now she's looking at a FELONY charge for livestock theft.  She's also looking at an animal cruelty charge.
(Here's her mugshot . . . plus a few photos of the painted goat.)
Dr. Feelgood In Court
Actual video of the plastic surgeon in California showed up for his Zoom traffic court appearance while he was in the middle of operating on a patient.  He swore he could concentrate on the surgery AND the court appearance, but the judge decided to reschedule.
National Tortilla Chip Day
My pro tip, Guac instead if salsa, jussssssssssssayin.. but avoid Nebraska. Today is National Tortilla Chip Day, and somehow none of us got the day off work.  What's up with that?  In honor of today's very real holiday, a new study looked at Google search data to figure out the most popular DIP in every state, for tortilla chips or any other kinds of chips.  Salsa won the most states, with 18.  It just beat out guacamole, with 15 states.  Queso was third, with six states . . . ranch and buffalo chicken dip both won three states . . . artichoke dip took two states . . . then French onion dip, crab dip, and beer cheese dip each won one state.  For what it's worth, the state that picked crab dip was Maryland and the state with beer cheese dip was Wisconsin, so that checks out.
Brushing With A Poohbrush
If you've never heard of "toilet plume" before, get ready to freak out for a second.  But don't worry, this is good news . . .  "Toilet plume" is the term for tiny, germ-filled droplets that end up in the air when you flush the toilet.  And people have been stressing over it for years, because experts said some of that plume can end up on your TOOTHBRUSH. But a new study found you probably don't have to worry about it.  Researchers at Northwestern analyzed the bacteria on 34 used toothbrushes.  And they did find a lot of bacteria, but not the type you flush. The vast majority of the microbes they found were the type that live in your mouth or on your skin, not in your gut.  Some of the bacteria they found ALSO exists in your gut.  But they say it's much more likely those particles came from people's mouths than from their toilets.  In other words, flushing probably won't fling fecal matter all over your bathroom.  And previous studies have found that even if tiny amounts do get on your toothbrush, it's not a health risk.
Best Friends Have To Be Great
It's important to be a good friend . . . even if your motivations are VERY questionable. According to a new study out of Oklahoma State University, the main thing that drives us to be a good friend to someone is . . . jealousy that they might like their other friends more than us if we don't step it up.  The researchers found we're even more jealous of a person's other friends than their new significant other, quote, "Which means what makes us most jealous is the possibility that we might be replaced."
Celebrate National Marg Day!
Today is National Margarita Day, because why WOULDN'T a random Monday in mid-February be National Margarita Day? In honor of the holiday, a new study ranked all 50 states by their love of margaritas based on Google search trends.  The five states that love margaritas the most are:  New Hampshire . . . Maine . . . Colorado . . . Missouri . . . and Tennessee.
And the five states that love them the least are:  Utah . . . North Dakota . . . Montana . . . Michigan . . . and South Dakota. Also, another survey found 15% of people say they only drink margaritas on vacation . . . 5% always get really bad hangovers from the mix of sugar and tequila . . . and 3% judge people who order frozen margaritas
No more hairspray? How about  Gorllia Glue?
You know how bad it is when you get gum stuck in your hair?  This is, no exaggeration, one billion times worse.  There's a woman in the New Orleans, Louisiana area named Tessica Brown.  And about a month ago, she had just finished doing her hair when she realized she was out of her hair spray.  So . . . she sprayed her hair with GORILLA GLUE instead.  She posted an Instagram video on Friday about how BAD of an idea that was . . . because her hair hasn't moved in a month.  She says she's washed it 15 times and nothing happens.  Her video went viral . . . and Saturday, she decided to get help and went to the hospital.  Of course, she documented her trip on Instagram.  Her latest picture is a big jug of, quote, "sterile water for irrigation" and medical-grade nail polish remover pads, with the caption, quote, "This is really about to be a long process."  (ABC 2 – Baton Rouge)
https://www.instagram.com/im_d_ollady/?utm_source=ig_embed
Single & 40 Jobs
We've got a list here of the jobs where people are most likely to be single at age 40, according to Census data. And it definitely seems like working nights, strange hours, or elbow deep in raw meat are NOT good for settling down.  Check 'em out . . .
1.  Bartenders, 70% are single at age 40.
2.  Hotel desk clerks, 66%.
3.  Food processing workers, 66%.
4.  Brick masons, 66%.
5.  Restaurant hosts, 66%.
6.  Agricultural food graders and sorters, 65%.
7.  Actors, 64%.
8.  Flight attendants, 62%.
9.  Vehicle cleaners, 62%.
10.  Butchers, 61%.
Super Eats 
Super Bowl Sunday is the first big eating holiday of the year, unless you happen to be someone who gorges on roasted groundhog. A new survey asked people what foods they're planning to eat during the Super Bowl. The top 10 are:  Chips and dip . . . wings . . . pizza . . . nachos . . . cheese and crackers . . . burgers or sliders . . . cookies . . . ice cream . . . mozzarella sticks . . . and tacos. The survey also found the five most common things we'll be drinking are:  Soda . . . beer . . . iced tea . . . wine . . . and whiskey. Another survey found 40% of people plan on eating more during the game this year than they did last year.  And a quarter of people won't buy food until Sunday.
Get Chunky, Live Longer
It turns out I've been accidentally taking longevity medicine without knowing it.  And that medicine is ranch dressing. According to a new study out of Ohio State University, people who chub up as they get older actually live the LONGEST of anyone.  The study looked at people in a town in Massachusetts for almost 70 years.  And they found that people who start their adult lives at an average weight and then slowly become overweight . . . but not obese . . . live longer than people who stay at an average weight their whole life.  They're not exactly sure WHY those extra pounds help keep you alive but, quote, "the impact of weight gain on mortality is complex."
Super Spoilers
The Latest Super Bowl Commercials, Including Cardi B Dropping In on "Wayne's World"
Other People Besides Me That Aren't Sports-ing
A lot of us watch the Super Bowl for the ads or halftime show, not the game.  And a new survey of NON-sports fans asked people WHY they watch major sporting events.  Here are the top ten reasons . . .
1.  For the atmosphere.
2.  To get together with family and friends.
3.  For the social factor.  So the first three are all mostly about socializing.
4.  To learn about the sport.
5.  So they can join in on conversations about the game the next day.
6.  For the adrenaline.
7.  The food.
8.  FOMO, or the "fear of missing out."
9.  To keep up to date with sports news.
10.  To impress someone.
(credit Express)
And He Gone
KANYE WEST moved his 500 pair of sneakers out of the CALABASAS, CA, manse he shared with wife KIM KARDASHIAN. The two are apparently headed for divorce court. Or as the item put it, "These kicks were made for walking." KARDASHIAN has been in TURKS AND CAICOS with her family, with a source reporting, "They both felt it would be less dramatic without both of them in the house." WEST was seen touching down at VAN NUYS AIRPORT in L.A. last week. While on vacation, KARDASHIAN posted a series of INSTAGRAM photos in a  brown string bikini and YEEZY CROCS, leading to speculation it could be her way of chiding KANYE for removing the kicks from their home. KARDASHIAN posted another INSTAGRAM of a new showroom in her home for her SKIMS line, which looked suspiciously like WEST's closet, as seen on a 2019 episode of NETFLIX's "My Next Guest With DAVID LETTERMAN." (Page 6)
How Much Dollars Do You Love Your Valentine This year? 
If your Valentine's Day gift gets a bad reaction, blame COVID.  52% of us will celebrate Valentine's Day this year, but spending is down across the board.  The average is $165, 31 bucks less than last year.  Here are six more quick stats . . .
1.  Men will spend an average of $231.  Women will only spend $101.
2.  The top five people we're spending on are our significant other or spouse . . . other family members . . . our friends . . . our kids' classmates and teachers . . . and our pets.  And around one in seven people will also buy THEMSELVES a gift.
3.  The most popular gifts this year are candy . . . cards . . . flowers . . . and an evening out.  But only one in four people are going out this year, which is the lowest EVER.
4.  41% are planning a special dinner or celebration at home instead.
5.  73% of people who are celebrating think it's especially important to do something for Valentine's Day this year.
6.  And an annual study on the best CITIES for Valentine's Day found the top five are San Francisco . . . Honolulu . . . Portland, Oregon . . . Seattle . . . and San Jose, California
And apparently your own social media can predict your break up about 3 months in advance.. A new study found that someone's social media posts can predict their breakup three months before it happens.  They found that in the months before a breakup, people start using more self-focused words like "I," "me," and "mine" . . . and they start thinking about things less analytically and more emotionally.
Celebrity Dirty At 8:30 Top 5
1.  KATE HUDSON has explained why she's so into musicians.  (Full Story)
2.  REBEL WILSON and her boyfriend broke up.  (Full Story)
3. The "NAACP Image Awards" announced their 2021 nominees yesterday.  (Full Story)
4.  TINA FEY and AMY POEHLER will host the "Golden Globes" from separate coasts.  The nominees will be announced this morning.  (Full Story)
5.  MARK-PAUL GOSSELAAR says the "Saved by the Bell" cast is "pretty shocked" over DUSTIN DIAMOND's death.  (Full Story)
Sreeech Has Passed Away
DUSTIN "SCREECH" DIAMOND died of Stage Four lung cancer yesterday, at the age of 44. I posted my personal experience with him from a year ago when we had him host an event here in Peoria,
enjoy it here.   He was just diagnosed THREE WEEKS ago, but his rep said it was a, quote, "brutal, relentless form of malignant cancer."  (Full Story)
All of DUSTIN DIAMOND's former co-stars from "Saved By the Bell" are paying tribute to him online . . . and MARIO LOPEZ says they had been hoping he could reprise his role on Season Two of the revival.  (Full Story)
You have Next Day Anxiety Too?
Life is so stressful now.  As soon as we get through TODAY'S stress, we're already worried about tomorrow . A new survey found the #1 thing keeping us up at night is "next day anxiety" . . . or lying in bed thinking about all the stuff you have to do tomorrow. The top things that keep us up are:  Anxiety about the next day . . . replaying TODAY'S events in your head . . . being too hot or too cold . . . too much caffeine . . . and dealing with back pain.  Here are four more sleep stats from the survey . Here's more to give you anxiety
Big Super Game Commerical Debut
See It Here First!  The Weekend's new Super Big Game Commercial THE WEEKND: THE WALK #SBLV COMMERCIAL  Catch The Weeknd Performing at the Super Bowl LV Halftime Show on February 7th, 2021
Bad Aim, Dumb Criminal
Two guys tried to break into a house in Indiana last week . . . but as they kicked in the front door, one of them accidentally shot himself in the leg.  And the entire thing was captured by a Ring doorbell camera.  The guys ran off, but the guy who shot himself went to the hospital later that night . . . and he was arrested.  Here's some video of how to now 'criminal'.
Who Tryna Get That Sleeping Beauty Job
It's about time you started getting paid for one of your best talents.  The website SleepJunkie.com is looking to pay a, quote, "real-life Sleeping Beauty" to test out three different mattresses over two months and write about how they are.  And they'll pay you $3,000 for your work, plus you get to keep one of the mattresses.  If you're interested, you can apply on their website.
Coca Cola Rush
This drink is either going to be revolutionary or the worst thing you've ever tasted, and we really aren't sure which. Coca-Cola with Coffee just launched nationwide, and so did a sugar-free version.  The cans are a mix of Coke and coffee and come in three flavors:  Dark blend, caramel, or vanilla.  Each 12-ounce can has 69 milligrams of caffeine, which is just over half of a regular coffee or a Red Bull, but more than double a can of regular Coke.
Leg Go Bang!
Last week, two guys tried to break into a house in Fort Wayne, Indiana in the middle of the night by kicking in the front door.  But . . . as they were kicking in the door, one of them accidentally SHOT HIMSELF in the thigh with the gun in his pocket. And we know that's what happened, because the entire thing was caught on video by the Ring doorbell camera at the house. The guys ran off right after that. Later that night, the guy who shot himself went to the hospital . . . where he was arrested.  Police are still trying to find the other guy.  Here's the idots!
Ladies Loved Dogs First
Do you feel like your dog is part of your family?  Of course you do.  Most people do. And a new study out of Washington State University figured out WHY . . . it's all thanks to women.  The researchers found that women formed early bonds with dogs just as dogs were becoming domesticated, and as a result, quote, "[Dogs] were more likely to be included in family life."  Women are responsible for dogs getting names, sleeping on furniture, and getting funerals when they passed away.  And that's how dogs became SO important to people and bonded with us so well . . . which is still going on today.  The researchers say, quote, "Dogs are everywhere humans are . . . they have been able to thrive.  They have hitched themselves to us and followed us all over the world.  It's been a very successful relationship.
Caught With His Wife By His Wife
The aging process can be tough on all of us, man.  There's a woman in Cajeme, Sonora, Mexico who's only been identified as Leonora N.  And she was recently scrolling through her husband Juan's cell phone . . . and she spotted a bunch of pictures of him with some younger woman.  So Leonora STABBED Juan.  He managed to grab the knife from her and then told her the woman in those pictures was . . . HER.  He'd digitized some of their old photos together from back when they were younger, and she didn't recognize herself. We don't know how old they are now, but from the one photo circulating, I'd estimate late 40s or 50s. Leonora was arrested, and charges against her are pending.
Saddest Movies
What are the movies that ALWAYS makes you cry . . . no matter how many times you've seen it?  Someone posed that question on Twitter this weekend, and it went viral. The original poster said these four do it for him:  "Apollo 13", "Big Fish", "The Green Mile", and "Saving Private Ryan".  But hundreds of others added THEIR top tear-inducing flicks. For starters, a couple celebrities weighed in.  Nancy Sinatra suggested the 1944 movie "Since You Went Away" with Shirley Temple and Claudette Colbert.  Patricia Arquette added the 1976 version of "A Star Is Born" with Kris Kristofferson and Barbra Streisand, "Splendor in the Grass", "Sunrise", and "Reds".  Other highlights from regular people include . . .
"Cider House Rules", "The Bridges of Madison County", "The Boy in the Striped Pajamas", "Ordinary People", "Crooklyn", "Grave of the Fireflies", "Beaches", "E.T.", "My Girl", "Titanic", "Harold and Maude" . . .
The second, third, and fourth "Toy Story" movies, "The Curious Case of Benjamin Button", "The Notebook", "The Color Purple", "Moonlight", "12 Years a Slave", "West Side Story", "The Fault in Our Stars" . . .
"Bicentennial Man", "Up", "Terms of Endearment", "Mr. Holland's Opus", "Schindler's List", "Marley and Me" . . . and someone else said, quote, "Any movie that includes a dog.  Any of them.  All of them."
Someone said, quote, "There's something about baseball movies . . ." and another suggested "Field of Dreams" and "A League of Their Own".
A Marvel fan added "Thor", "The Avengers", "Thor: The Dark World", "Thor: Ragnarok", "Avengers: Infinity War", and "Avengers: Endgame".
JoJo Siwa Arrives In Her Own Comfort Level
17-year-old singer and YouTuber JOJO SIWA admitted over the weekend that she's part of the LGBTQ community.  Asked what "label" she is, she said she doesn't know yet.
New Kardashian Show Idea
KOURTNEY KARDASHIAN might be dating TRAVIS BARKER, we got he proof right here.
https://www.instagram.com/p/CKXvyTlnyiG/?utm_source=ig_embed
Celebrity Dirty Top 5 Recap
1.  Celebrities have had sex in crazy places.  Jenny McCarthy did it at the bottom of the Grand Canyon, Zac Efron got it on at the prom, and Charlie Sheen got lucky in an Eiffel Tower elevator.  (Full Story)
2.  MILEY CYRUS thinks women's bodies are way hotter than men's.  Although she admits, quote, "I like [penises] as art pieces.  And sculptural, I love the shape, I think it looks really good on a table."  (Full Story)
3.  ROB LOWE thinks America needs a Brat Pack reunion to lighten the mood.  He even has some crazy ideas for it, like a "Scooby-Doo"-type cartoon, or a Brat Pack season of "Big Brother".  (Full Story)
4.  Along with the presidency, the official presidential Twitter accounts have to be transferred from Trump to Biden tomorrow.  Also, a new account has been created called @SecondGentleman, for Kamala Harris husband.  (Full Story)
5.   No big surprise here:  The breakdown of KIM and KANYE's marriage will be a major "storyline" on the final season of "Keeping Up with the Kardashians".  (Full Story)
Spot If Your Man IS Cheating
Here's a creative way to figure out if someone's cheating on you.  Plus, bonus, you clean your place in the process.  Win-win.  A woman named Andrea Lopez is going viral on TikTok for a trick she came up with to catch a cheater.  (Here's the video.)  In the video, she runs a lint roller on the carpet in her boyfriend's room, and it picks up a bunch of long red hairs.  Andrea's hair is black.  Lots of people have commented on the video about how impressed they are with this, quote, "FBI level trick" . . . although one cheater took it a different way.  Quote, "Clean the floor when you have a girl over.  Got it."
Who's Hiring Someone To Eat & watch TV
There aren't many jobs I feel more qualified for than THIS one. A website called BonusFinder is hiring a "professional binge watcher."  They'll pay someone $500 to watch Netflix and eat pizza, then post reviews of the shows and the pizzas. If you're interested, you can apply on their website through February 12th.  Unfortunately, they're going to pick the person at random.  You know, just like most companies seem to do when you apply for jobs.
Celebrity Dirty Top 5
1.  DUSTIN DIAMOND from "Saved by the Bell" was hospitalized after feeling pain all over his body.  TMZ is reporting that it could be cancer.  He's currently undergoing tests.  (Full Story)
2.  BRUCE WILLIS got kicked out of a Los Angeles Rite Aid for not wearing a mask.  Which is odd because he had a bandana around his neck that he could have easily pulled over his mouth and nose.  He later called it an "error in judgment."  (Full Story)
3.  "Frozen 2" tops a list of the Most-Streamed Movies of 2020 on the four main streaming services.  "Moana" is second, followed by "The Secret Life of Pets 2".  (Full Story)
4.  "The Office" tops a list of the Most-Streamed TV Shows of 2020.  "Grey's Anatomy" is the runner-up.  The most-streamed show that's ORIGINAL to a streaming service is Netflix's "Ozark".  (Full Story)
5.  There's a video kicking around of a 16-year-old ED SHEERAN trying out for a musical TV series.  He ultimately doesn't make the cut because he can't dance.  One woman even says, quote, "Ed hasn't a clue what he's doing.  But he's trying."  (Full Story)
How Gross Are You?
Are you a gross, disgusting, filthy individual?  Someone polled over 100,000 people online and asked about different things a lot of us do but never talk about.  How many of these habits will YOU admit to?
1.  Do you pick your nose when no one's around?  93% said yes.  And 43% have EATEN it before.
2.  In the bathroom, do you ever skip the whole hand-washing thing because you're just too lazy?  69% said yes.
3.  Have you ever SOILED yourself, besides when you were a baby?  36% of us have done it as a teenager or adult.
4.  Have you worn the same pair of underwear two days in a row?  68% have.
5.  Have you ever passed gas and denied it was you?  79% said yes.
6.  Do you ever pee in the shower?  83% of us do.
7.  Have you ever popped someone ELSE'S zit?  38% of us have.
8.  Do you ever stick your fingers somewhere gross and then SNIFF them, just because you're curious?  74% admitted to it.
Perfect Gift For The Meat Lover on Valentines Day
Who says you have to put chocolate in a heart-shaped box for Valentine's Day?  It's a weird time right now, might as well get weird with THIS too. Jack Link's Beef Jerky is selling a heart-shaped box filled with BEEF JERKY for Valentine's Day this year.  And the box itself is covered in brown HAIR.
https://www.instagram.com/p/CJuRcz-lBX5/?utm_source=ig_embed
Haircutless In 2021
Without regular haircuts, the pandemic has brought a return of the MAN BUN . . . just when it seemed like it might go away on its own.
Because it's Monday
The Rock Finds His Favorite Stuffed Animal is probably the cutest video you will see this week!
Carid B's Butt isn't a Belly
CARDI B tried to post a sexy picture of one of her buttcheeks, but people mistook it for a belly.  She called it a "sexy mission fail.
Throwback Thursday, 20 Hits 20 Years Old This Week
And now, here are 20 songs that topped the charts 20 years ago:
1.  "Smooth Criminal",  Alien Ant Farm
2.  "Rollin'",  Limp Bizkit
3.  "Because I Got High",  Afroman
4.  "It Wasn't Me",  Shaggy
5.  "Bootylicious", and "Survivor",  Destiny's Child
6.  "I'm Like a Bird",  Nelly Furtado
7.  "Get Ur Freak On",  Missy Elliott
8.  "Ride Wit Me",  Nelly
9.  "Thank You",  Dido
10.  "I'm a Slave 4 U",  Britney Spears
11.  "Stuck in a Moment You Can't Get Out Of",  U2
12.  "Ms. Jackson",  Outkast
13.  "Hit Em Up Style (Oops)",  Blu Cantrell
14.  "You Make Me Sick",  Pink
15.  "Clint Eastwood",  Gorillaz
16.  "U Remind Me",  Usher
17.  "In the End",  Linkin Park
18.  "Fallin'",  Alicia Keys
19.  "Let Me Blow Ya Mind",  Evefeaturing Gwen Stefani
20.  "What It Feels Like for a Girl",  Madonna
Cobra Kai's Ralph Macchio Youth Secret
As impossible as it seems, RALPH MACCHIO just turned 59 in November.  Seriously . . . the guy could pass for 39.  And now, he's sharing the secret to his eternal youth.  Unfortunately, it's nothing you can copy. He says, quote, "I blame my parents.  They both look very young for their age.  I have a youthful energy about me for some reason.  A healthy lifestyle doesn't hurt.  But I think I've just gotten lucky in the gene department."
Eat Your Tree
If your Christmas tree is still sitting in your house, here's an option instead of dragging it out to the curb:  Serve it for dinner. There's a new cookbook out from a, quote, "artisan baker and cook" in the U.K. named Julia Georgallis called "How to Eat Your Christmas Tree".  And it features dozens of recipes you can make using your tree. For example, Christmas-Cured Fish uses almost a pound of needles for decoration and flavoring.  With Christmas Tree Pickles, you throw a handful of needles into a jar with your pickles for a month.  There's even ICE CREAM flavored with blue spruce needles and ginger. Julia says she created the book so people would get better use out of their trees . . . rather than chopping down 30 million trees every year and then throwing them away.  Plus, quote, "I don't know why it's so weird because we eat and we forage so many [other] plants."
Attack Squirrels
Some people living in a Queens neighborhood are afraid to leave their homes. That's because there have been several aggressive squirrel attacks over the last few weeks, CBS 2 New York's Hazel Sanchez reported Tuesday. Micheline Frederick is still bruised. Her bite wounds are healing after she was attacked by a squirrel one week ago. "You hear someone has been bitten by a squirrel, you're like 'Okay, you got a little nib, what's the deal?' But this was … this was an MMA cage match! And I lost!" Frederick said. Here's the video!
Bird Poosicle on Your House!
At some point, you've probably cracked an icicle off the gutters and eaten it like a cold, flavorless popsicle. But here's something you DIDN'T know.  That popsicle actually DOES have a flavor . . . and the flavor is bird poop.  Katie Nickolaou is a meteorologist in Sioux City, Iowa.  And she's going viral with a TikTok video she posted that explains why icicles are filled with bird poop. Quote, "When icicles form, it's from water that melts off your roof and runs down the side of a building.  You know what else is on your roof?  Bird poop.  A lot of it."  That's not to say you'll get sick from licking the bird poop in an icicle . . . but really, is that something you WANT to lick?
The Perfect Match?
This is about as disappointing as a SOUL MATE gets.  A 24-year-old woman named Brooke Averick from Haverford, Pennsylvania posted on TikTok recently about how the dating app Hinge just told her that her perfect match is . . . her BROTHER. She filmed a video about the results WITH her brother . . . who makes her more and more annoyed throughout it as he pretends to kiss her in the MOST brother move ever.
https://www.tiktok.com/@ladyefron/video/6899501594954452230?referer_url=https%3A%2F%2Fwww.wisebrother.com%2F&referer_video_id=6899501594954452230
The Things we'll miss this year!
With so many of the normal Christmas traditions going out the window this year, a new survey asked people:  Are there things you thought you HATED about the holidays but you're kinda gonna miss this year?  Here are the top 10 . . .
1.  The chaos of the entire family being together.
2.  Making fun of . . . or being made fun of by . . . your siblings and parents.
3.  The last-minute shopping rush.
4.  Pretending you like a gift.
5.  Spending time with your in-laws.
6.  A lack of personal space.
7.  Arguing over Christmas dinner.
8.  Wearing ugly Christmas sweaters.
9.  Fighting over the TV remote.
10.  Dry turkey.
Sleepin Less, Still Tired As F!
Going into 2020, most of us weren't getting enough sleep already.  And this was NOT the year to turn that around.  According to a new survey, the average American slept about 47 minutes less every night in 2020 than in 2019.  In 2019, we slept an average of six hours and 17 minutes a night.  This year it's down to five hours and 30 minutes.  The average person also says they're going to bed earlier and waking up earlier than they did last year.
Were All Wine-ing this year!
This really ISN'T the New Year's Eve to be passing around the biggest bottle of champagne you've ever seen.  Some Costco warehouses have started selling GIANT bottles of Veuve Clicquot champagne.   The bottle is six liters, which is more than one and a half gallons.  And it's going to set you back $830.  That's actually a pretty bad deal.  A regular 750 milliliter bottle of Veuve sells for $60 at Wine.com.  So it would cost you $480 to get the same amount of champagne as Costco is selling for $830.  You're REALLY paying for the giant bottle gimmick.
Mario Lopez Makes A Sexy KFC Colonel?
Lifetime will debut a 15-minute "mini movie" this weekend, where MARIO LOPEZ plays a SEXY version of Kentucky Fried Chicken's Colonel Sanders.  It's called "A Recipe for Seduction".  (Full Story)
Beibs Stocking Stuffer For $25
JUSTIN BIEBER is doing his first live show in years on New Year's Eve.  It'll be free for T-Mobile customers, and $25 for everyone else.  Justin says he can't wait to, quote, "give everyone a safe way to kick 2020 out the door, together."  (Full Story)
Megan Thee Stallion SHows Off Her Long Hair And More
MEGAN THEE STALLION wanted to show us how long her natural hair is.  And, well, this was a good way to get our attention.  (WARNING:  The song in this clip contains profanity.)
https://www.instagram.com/p/CIclGWBloga/?utm_source=ig_embed&utm_campaign=embed_video_watch_again
Christmas Gift Giving Stress
The "Christmas spirit" is about being kind and thoughtful . . . and making everyone else look like they didn't even try.  A new poll found 61% of us see gift-giving as a competition, and will try to "out-gift" at least one other person this year.
The most common people we compete with are our siblings, friends, and significant other.  Here are the ten most stressful things about holiday shopping . . .
1.  Trying to find the "perfect" gift.  Almost 1 in 5 people claim they ALWAYS find the perfect gift.
2.  Looking for something that's sold out.  Like the PlayStation 5 this year.
3.  Worrying someone won't like your gift.
4.  Worrying it's something they won't use.
5.  Buying them something they already have.
6.  Being "out-gifted" by someone.
7.  Worrying your gift won't adequately show the person how much you love them.
8.  Bad weather and driving conditions while you're out shopping.
9.  Being out for long periods of time.
10.  Porch pirates stealing your packages.
Celebrity Dirty Top 5
1.  ICE-T posted about his anti-masker father-in-law battling a serious case of COVID, and people accused him of enjoying the irony too much.  He responded that he loves his father-in-law, and was trying to make a point about how serious COVID is.
2.  CARDI B is apologizing after BOASTING about how big her Thanksgiving gathering was.  She Tweeted, quote, "12 kids and 25 adults over the holidays.  It was lit!!  After getting backlash, she said, quote, "Sorry, my bad.  [I] wasn't trying to make nobody feel bad.  I just had my family in my home for the first time and it felt so good and uplifted me.  I spent soo much money getting everyone tested, but it felt worth it.  I wasn't trying to offend no one.
3.  According to a poll on celebrity couples, we're not holding out much hope for Megan Fox and Machine Gun Kelly, Camila Cabello and Shawn Mendes, or Kim and Kanye.  But Chrissy Teigen and John Legend, and Beyoncé and Jay-Z are looking pretty solid.   RIHANNA and A$AP ROCKY are reportedly a couple.  They've known each other for years.  He opened for her in 2013, and this past summer, she used him in her Fenty Skin campaign.
4.  FELICITY HUFFMAN has scored her first post-prison gig.  She'll star in an ABC comedy based on Susan Savage, the real-life owner of a Triple-A baseball team called the Sacramento River Cats.  (Full Story)
5.  TRAVIS SCOTT made serious bank hooking up with McDonald's this year.  McDonald's paid Travis at least $5 million up front, and his Mickey D's merchandise brought him another $15 million . . . for a grand total of $20 million.  (Full Story)
Avoid Cyber Mistakes today! 
Lots of great deals for Cyber Monday this year.  But here are five mistakes to avoid if you're shopping online today . . .
1.  Shopping for the sake of a sale.  A lot of people buy stuff JUST because it's on sale.  So ask yourself if you're actually excited about the product, or did they trick you into buying something you don't actually want.
2.  Think about delivery times.  There's still plenty of time for the post office to deliver stuff, but warehouses have had staffing issues during the pandemic.  So double-check the estimated shipping dates before you buy anything.
3.  Don't wait until tonight to start shopping.  A lot of stuff will be sold out by then.  So if you want the best deals, start early.
4.  Don't ignore travel deals this year.  Airlines and hotels are offering even crazier deals because of COVID.  And you can book way ahead of time for later next year.
5.  Don't get scammed.  Remember, if something seems too good to be true, it probably is.  So make sure you really trust the website before you give them your credit card info.
Celebrity Dirty top 5
1.  MEGAN FOX has filed for divorce from BRIAN AUSTIN GREEN.  (Full Story)
2  LAVERNE COX says she and a friend were victims of a transphobic attack.  (Full Story)
3 JENNIFER LAWRENCE's family farm in Kentucky burned down.  Luckily no one was hurt.  (Full Story)
4.KEVIN HART got himself into hot water for joking in his new standup special that his daughter is starting to show signs of being a "ho".  (Full Story)
5. BILL MURRAY's older brother Ed died last week.  "Caddyshack" was partly based on his childhood experiences as a caddy.  (Full Story)
Waffle House Beer
Even though Waffle House doesn't serve alcohol, they serve more drunk people than most places that DO.  So I give them the benefit of the doubt when it comes to something like this .  Waffle House is about to release its first-ever BEER. They teamed up with Oconee Brewing Company in Georgia to make a red ale called Bacon & Kegs.  It's, quote, "bacon infused" and apparently it smells just like bacon when you crack it open. If you're interested, it'll only be available from the brewery . . . not in Waffle House's stores, unfortunately.  It goes on sale on December 18th.
https://www.instagram.com/p/CHiGgAkhwz5/?utm_source=ig_embed
Karen's would like to speak to the manager…again!
This hasn't been a good year for the name "Karen" . . . and it seems like quite a few of them are about to call up Tinder and ask to speak to the manager.  According to a new study, women named Karen say their name is ruining their love lives.  They're getting 31% fewer matches on dating apps than last year and 33% fewer responses to messages they send.  Even women who use a different spelling like C-A-R-E-N or K-A-R-I-N have seen a 22% drop in matches.
Thanksgiving Gear
We've worn sweatpants all year long.  Are we REALLY going to switch to form-fitting clothes on the biggest overeating day of the year?
Stove Top has decided to release a CLOTHING LINE for Thanksgiving.  But rather than leaning into this year's theme of comfort, they decided to go the opposite way . . . and create FORMALWEAR.  Stuffing-themed formalwear. The line includes five items:  A red velvet dinner jacket with stuffing lining . . . cufflinks . . . a reversible shawl with a stuffing print . . . a headband . . . and a handkerchief and pocket square.
Why did they go fancy for this clothing line?  Quote, "Let's face it:  The sweatpants fatigue is real, and people are looking for any excuse to get dressed up this year.  We hope [this] makes people look and feel their very best this Thanksgiving." The prices range from $4.79 to $30.
All five items go on sale on a special website Stove Top set up for the occasion . . . LetsGetStuffy.com.
Does Friday the 13th make you nervous?
Or is it just another day?  A new poll found 29% of adults believe they've been INJURED because they didn't follow a superstition they should have.  Here are the top ten superstitions we believe in .
1.  Avoiding walking under a ladder.  62% said they'd never do it.
2.  Knocking on wood.
3.  Crossing your fingers.
4.  Saying "bless you" when someone sneezes.
5.  Not opening umbrellas indoors.
6.  "Find a penny, pick it up."  But only if it's heads up.
7.  Don't put new shoes on a table.  It's supposed to be bad luck . . . and unsanitary.
8.  Breaking the wishbone on a turkey.
9.  Throwing salt over your shoulder if you spill some.
10.  Keeping your wish a secret when you blow out your candles.
The poll also found 36% of us have a lucky number.
What About If All Things Can Be Made From Mountain Dew?
See the whole Mtn Dew Cook Book Here
Video here
New Dating Terms For A New World
The dating app Plenty of Fish puts out an annual list of dating trends they expect to see more of next year.  And a few of the trends on their 2021 list have to do with COVID.  Here are 11 dating trends they expect to see more of next year.
1.  Fauci-ing.  Declining to date someone because you don't feel they're taking the pandemic seriously enough.
2.  Maskerading.  Where you PRETEND to care about masks and COVID-19, just so people will date you.
3.  Apocalypsing.  Treating every relationship like it's your last, and getting too serious too quick.  A third of single people know someone who's done it.
4.  Zoomlander-ing.  Like the movie "Zoolander".  It's people who won't stop checking THEMSELVES out on camera when you're on a Zoom date.
5.  Sanitizing.  This one isn't a COVID thing.  It's when you delete photos and wipe all evidence of past relationships from your social media.
6.  Endgame-ing.  Accidentally sending a racy photo or video to someone you're dating.
7.  Folklore-ing.  Being so focused on fairytale romance that your expectations don't match reality.
8.  Waldo-ing.  When someone only posts group photos on their dating profile, so it's hard to tell which person they are.
9.  Stalk-blocking.  When you make all of your social media accounts private, so people who might want to date you can't research you first.
10.  Bradying.  This one's a dig on Tom Brady for changing teams.  It's when you end a long-term relationship even though everyone says it's a mistake.
11.  Hey and Pray.  When you play the numbers game on dating apps, and just spam a bunch of people with things like "hi" or "hey there."  Two-thirds of women who use dating apps say it's happened to them.
Those Dreaded Thanksgiving Days
A survey found the top things we're DREADING about Thanksgiving include dishes, cooking, shopping, too much noise, and dealing with extended family. It might be tough to celebrate Thanksgiving with your ENTIRE family this year.  But not everyone thinks that's a bad thing. A new survey found that dealing with difficult family members is one of the top things we DREAD about Thanksgiving.  Here's the Top 10.
And Finally A Baby Boy
A couple in Michigan with 14 sons had another baby on Thursday . . . and it's a girl.  There's no word on whether they're going to stop having kids now. Maybe this couple can finally take a breather. There's a couple in Lakeview, Michigan that has 14 SONS.  And on Thursday, they had their 15th child . . . and it's a GIRL.  45-year-old Kateri Schwandt and her husband, 45-year-old Jay Schwandt, had their daughter Maggie on Thursday.  Yes, they're 45 and have 15 kids.  Their oldest is 28, which means they had him after they got married right out of high school.  They had three sons by the time they were done with college . . . but they both still went on to get advanced degrees.  There's no word on whether they're planning on having any more kids, or if this daughter is FINALLY their license to stop.
Cheaters Be Alert
If you are going to cheat with a guy in a pick up truck, make sure there are no reflective sunglasses on your face, fella's !
https://www.tiktok.com/@sydneykinsch/video/6890397554001988869?referer_url=https%3A%2F%2Fwww.wisebrother.com%2F&referer_video_id=6890397554001988869&fbclid=IwAR2IgwLEU80KlVGBWcNtmT1XnMWpPLTWR9NCupIqQlnQagPi8hECaT232Gw
The Smell Of 2020
A novelty candle company in England called . . . ready for this? . . . Flaming Crap has created a candle called "The 2020 Scent." It's a layered candle that will take you through four of the big smells of 2020:
1.  Banana bread.
2.  Hand sanitizer.
3.  Wood, for the DIY project and home improvement phase of quarantine.
4.  And, quote, "budget aftershave and earthy essence," which is supposed to make you think of "Tiger King".
If you're interested, the candles sell for $20 on their website . . . order fast to make sure the candle arrives in time for Christmas.
A novelty candle company in England called . . . ready for this? . . . Flaming Crap has created a candle called "The 2020 Scent."
If you're interested, the candles sell for $20 on their website . . . order fast to make sure the candle arrives in time for Christmas.
Ten Hilariously bad celeb Halloween Costumes This Year!
https://www.instagram.com/p/CHDQfNklVyx/?utm_source=ig_embed
A list of this year's 10 WORST celebrity Halloween costumes includes:  Shawn Mendes dressing as a "beat-up" version of himself, Vanessa Hudgens in a lazy sexy elf costume, and Joseph Gordon-Levitt went as a cat . . . with a cardigan and a purse?  The COVID-19 pandemic wasn't going to stop Hollywood from celebrating Halloween . . . but in some cases, it probably SHOULD'VE.  Buzzfeed.com has a list of celebrities who "didn't exactly nail their Halloween costumes," which is a nice way of saying "They're the worst we've seen."
McRib Makes 2020 better
The people at McDonald's clearly looked around, saw everything going on, and said, "You know what people NEED?  Processed and sculpted mystery meat drowned in mild barbecue sauce."  McDonald's is bringing back the McRib this year, like they do around this time every year.  But this year it's going nationwide.  For the past eight years, they've only brought it back to some of their stores, not all of 'em.They're scheduled to hit all 14,400 McDonald's stores nationwide exactly one month from today.
Time To Get Ill
In case you forgot to set your clocks back this weekend, you are now late for everything, it seems like even MORE people get on board with never changing the clocks again. According to a new survey, only 7% of people say they like this current system of changing the clocks once in the spring and then again in the fall. 66% of people say they'd like to get rid of Daylight Saving Time, so basically, this coming spring, we just wouldn't change the clocks.  And 50% say they'd like to get rid of Standard Time. Obviously, there's some overlap between those groups from people who just want to stop the time changes, regardless of whether we get rid of Daylight Saving Time or Standard Time to make that happen.
That's Awkward
The average person has four awkward or embarrassing situations a month because we misheard what someone said, according to a new survey.  And two-thirds of us have had to PRETEND we understood someone when we didn't. It was hard enough to always understand everything people were saying BEFORE masks.  Now?  No chance. According to a new survey, the average person has four awkward or embarrassing situations a month because we misheard what someone said. And here are some of the biggest mistakes people make because they misheard something . . .
1.  20% have asked for directions, not understood them, and gone to the wrong place.
2.  20% have called someone by the wrong name repeatedly.
3.  14% have screwed something up at work.
4.  And 5% have worn inappropriate clothes to an event because they misheard the dress code.
The survey also found two-thirds of us have had to PRETEND we understood someone when we didn't.
Most Popular Celeb Halloween Costumes For 2020
If you're thinking of dressing up as a CELEBRITY for Halloween, you might want to check out this list of the year's 20 most popular costumes. So these are either ones to COPY or to AVOID, depending on how unique you're looking to be. To come up with the list, an Internet data company analyzed Google searches regarding celebrity costumes over the past month.  Here's the Top 20:
1.  Ariana Grande
2.  Britney Spears
3.  Cher
4.  Kylie Jenner
5.  Heidi Klum
6.  Kendall Jenner
7.  Beyoncé
8.  Cardi B
9.  Kim Kardashian
10.  Elton John
11.  Lady Gaga
12.  Taylor Swift
Kanye Gives Kim The Gift Of Hologram Dead Dad
 KANYE WEST gave KIM KARDASHIAN a hologram of her dad ROBERT KARDASHIAN for her 40th birthday.  And of course, it told her that she, quote, "married the most, most, most, most, most, genius man in the whole world, Kanye West!"  KANYE WEST may have reached the height of insanity when putting together KIM KARDASHIAN's 40th birthday gift.  Because he gave her a hologram of her late father, ROBERT KARDASHIAN. Hologram Robert tells Kim how proud he is of the whole family, and how he's watching over all of them.  And he loves the fact that she's continuing his legacy by studying to become a lawyer. Oh, and he also tells Kim she married, quote, "The most, most, most, most, most, genius man in the whole world, Kanye West!" As tacky and weird as this might seem to a normal person, Kim LOVED it.  She posted a video of the hologram and said, quote, "For my birthday, Kanye got me the most thoughtful gift of a lifetime. A special surprise from heaven. "A hologram of my dad.  It is so lifelike!  We watched it over and over, filled with emotion."
Robert died in 2003 . . . just shy of Kim's 23rd birthday.
They Say the Pole Dancing Skeletons Gotta Go!
There's a woman named Angela Nava in Richmond, Texas.  And she's upset because her HOA is forcing her to take down her Halloween decorations . . . which are POLE-DANCING skeletons.  She says she put them up because, quote, "We've all been cooped up and it's a terrible year . . . it's really been just a great creative outlet." On the bright side, HOAs are as bureaucratic as they are joyless . . . so they gave her a standard 30-day deadline to remove the decorations, and that means the deadline is well after Halloween
Celebrity Dirty At 8:30 Top 5
1.  BRAD PITT and his married girlfriend broke up.  (Full Story)
2.  Despite dating rumors, ADELE says she's single.  (Full Story)
3.  MICHAEL FISHMAN, little DJ Conner from "The Conners" spoke out about his son's overdose death earlier this year.  (Full Story)
4.  RON JEREMY was charged with seven additional sex crimes. he's now up to 20 btw  (Full Story)
5. "Bachelor" host CHRIS HARRISON is releasing his own line of wedding rings for men.  (Full Story)
Boredest Men Ever
Sometimes clichés are clichés because they're SO true.  And this Instagram account is going all in on one of those . . .The Instagram account is called Miserable_Men.  And it's all pictures of men looking bored . . . or even falling asleep . . . on shopping trips.The account is really starting to get popular now and it's up to more than 346,000 followers.  And if you've got a good photo to share, they take submissions.  (Instagram)
https://www.instagram.com/p/BMK6VVRgkT7/?utm_source=ig_embed
Behold The Ultimate Pumpkin Is Here
https://www.instagram.com/p/CF4-Y6vljCV/?utm_source=ig_embed
Old Time Rap Dis
BUSTA RHYMES challenged T.I. to a battle on "Verzuz", but T.I. turned him down . . . because he's too old.  Quote, "It ain't no disrespect at all . . . Y'all wouldn't put Brandy up against Dionne Warwick."  (Full Story)
Poor Karens
Babycenter.com just released its report on the most popular baby names of the year based on data from more than 520,000 parents. And the names at the top are pretty much the same popular names we've been seeing lately.
The top 10 for girls are Sophia . . . Olivia . . . Riley . . . Emma . . . Ava . . . Isabella . . . Aria . . . Aaliyah . . . Amelia . . . and Mia.
The top 10 for boys are Liam . . . Noah . . . Jackson . . . Aiden . . . Elijah . . . Grayson . . . Lucas . . . Oliver . . . Caden . . . and Mateo.
One other result:  The popularity of the name "Karen" went down 13% after a particularly bad year for Karens.  (Babycenter)